JUNE 6 2021 UPDATE
We are excited to share that Newfoundland and Labrador has announced its reopening plan. The plan can be found here.  We will be accepting reservations from those who qualify to travel ti Newfoundland during the time of their booking.
MARCH 29th 2021 UPDATE
With the announcement of the Atlantic Bubble re-opening and Newfoundland returning to Level two we have decided to open the Twine Loft restaurant up for select days of the week as early as May 7th. If guests of the inn are not pre-reserved for dinner on an advertised operating day, The Twine Loft will require a minimum of 4 dinner guests (can be from different reservations) to operate on a given evening.  Please see our previous updates for details on how some of our accommodations are being run this year.
MARCH 13th 2021 UPDATE

Marieke Gow co-owner of the Artisan Inn
We never imagined last March that we would still be writing Covid-19 updates today, but here we are, with a lot of knowledge and experience under our belts.  Despite the border shut down, in 2020 we were determined to find a way forward that delivered a memorable experience to our residential visitors and provided a safe workplace for our staff. When residential travel was finally permitted in June 2020 we started off opening one or two vacation homes until we had everything with a self-catering and private sitting space option open.  By the end of the summer we had our room rentals open as well.
For the Twine Loft, we started with a few take out lunches, something new and fun for us, then moved on to offering drinks on the deck. By mid August our team was determined to open the restaurant. We converted the common area on the second floor of the Twine Loft into a second dining room to allow for ample social distancing between tables seating a maximum of 12 guests per floor. We hardly had an empty table for the rest of the season. None of this would have been possible without the support of Newfoundlanders investing their travel dollars right at home and we are thankful to those who shifted their 2020 reservations to later in the future.  Despite the continuation of restrictions we are excited to embark on another season and have a full team in place and ready to roll!
OUR PLAN FOR 2021
When we plan to open
We are aiming to have all our vacation rental properties and self-catering suites up and running by Victoria Day weekend, When the restaurant will open and our individual room rentals will be based on demand, but we are expecting to have them open by Victoria Day or early June.
Who we are taking bookings from and how you can submit a request
Our plan is to operate in the 2021 season whether the NL border opens or not.  Because a potential border opening date is unknown, we have had to stop taking reservations from off island bookers since blocking this inventory off until one month prior could result in a repeat of the situation we found ourselves in during the summer of 2020.  For this reason, we have adjusted our booking engine so people may make a $0 reservation request. You can always find the rates on the profile page of each house and room on the website.
When you submit through our booking engine it is not an official booking as we do not have a deposit from you, but it allows us to review the booking and determine if we can accept it based on your location, or waitlist it and contact you if it is still available once the border opens. Our system will send you an automatic reply, but we will contact you personally as soon as possible not matter what our decision is. If we can accept it we will send back a copy of the request with the total cost filled out and a link to our cancellation policy. Guests may decide at that point if they would like to proceed with a down payment.
ADJUSTING HOW WE TYPICALLY OPERATE:
Artisan Inn and Vacation Homes is a collection of buildings throughout the town of Trinity. Some are rented as full self-catering vacation homes while others are rented by the room, each room having a private bathroom.  Because the houses are dispersed throughout the town, our staff cannot be continuously monitoring guests in common areas in houses rented by the room ( if guests are social distancing, if they are wearing their masks, if frequent touch points are being disinfected).  We prefer to create spaces where people can enjoy themselves instead of focusing on what they can't do. We are making investments to make guest spaces even better including some furniture upgrades for Campbell House, bigger bedroom windows in Lighthouse View, and fire tables for all the vacation rentals.
WHAT CAN STILL BE RENTED AS JUST A ROOM
ROOMS LOCATED IN BARBOUR HOUSE – Room Rentals are available starting May 7th
Cove View Room and Trinity Room will remain as regular single room rentals with ensuite bathrooms.  A private coffee station and mini fridge will be set up in each room instead of it being located in the upstairs landing for common use.  Please note that these rooms do not have access to a common area at the inn during Covid-19.  Guests can relax on the Twine Loft deck, but they may not bring their own alcoholic beverages onto the deck.  Studio will remain as is ( a self catering suite with access to an outside deck area and bbq)
WHAT ROOMS ARE BEING COMBINED TO CREATE A SUITE OR VACATION HOME?
ROOMS LOCATED IN LIGHTHOUSE VIEW
Lighthouse Keeper's Room and Water Street rooms (located in Lighthouse View) will not be rented as individual rooms in 2021, but instead can be rented as a two bedroom vacation home with access to the full kitchen.
ROOMS LOCATED IN CAMPBELL HOUSE
Fort Point Room and Fisher Cove Room (both located in Campbell House) will be rented as a two bedroom suite instead of individual rooms.  Because there is no access to a kitchen in this house, we will be installing a farmhouse sink in the main dining area and including a microwave, toaster, mini fridge and coffee station.  We are also replacing the antique couches in the living room with more comfortable couches to create an even cozier space to lounge in (updated pictures will be available once the furniture is in place)  Campbell House Two Bedroom Suite.
THE TWINE LOFT
It is our intention to have the dining room open to the public for breakfast and evening dinner.  We are unsure of our opening dates but do have predicted opening dates listed on our restaurant webpage. We are looking at modifying how we do breakfast as continental may not be a practical option while Covid-19 is a concern.  Check our OUR RESTAURANT for more details as they become available for both evening and breakfast meals. Guests can currently request a reservation through our online booking system. If we can accept your reservation a credit card will be required and the cancellation policy can be found on your  request form.
_________________________________________________________________________
May 31st 2020: MOVING INTO LEVEL THREE
While the Newfoundland and Labrador Government plans to announce the easing of restrictions around movement in Level 3 (likely early June), their official stance is that Staycations will be promoted in Level 2.
We have been busy readjusting our vacation homes to reduce unnecessary touchpoints and increase the overall level of comfort for both guests and staff as we operate throughout this pandemic.  We plan to have Cove Cottage, Nathaniel House, Gover House and the Studio Suite open soon for rent. Blueberry will be available in July. We are still determining what our minimum night stay limit should be for each individual house, but please feel free to inquire.
6 persons will be the max number of guests permitted for a vacation home rental and only guests listed under the rental are permitted in the building.
With the exception of the Studio Suite, we do not have plans to open the rooms in the near future.
The restaurant will stay closed even as we enter into level three.  Operating at 50% capacity means we would just break even with in-house service if we ran every night at full capacity.  We are taking this time to determine if adjusting our product for take-out makes sense, or if leaving the restaurant closed makes the best financial sense during these uncertain times.
Please feel free to contact us info@trinityvacations.com should you have any questions.
Stay Safe
Marieke Gow & Tineke Gow
May 1st 2020: A LETTER ABOUT OUR SEASON
Learn how to request a vacation home for this season further down on this page.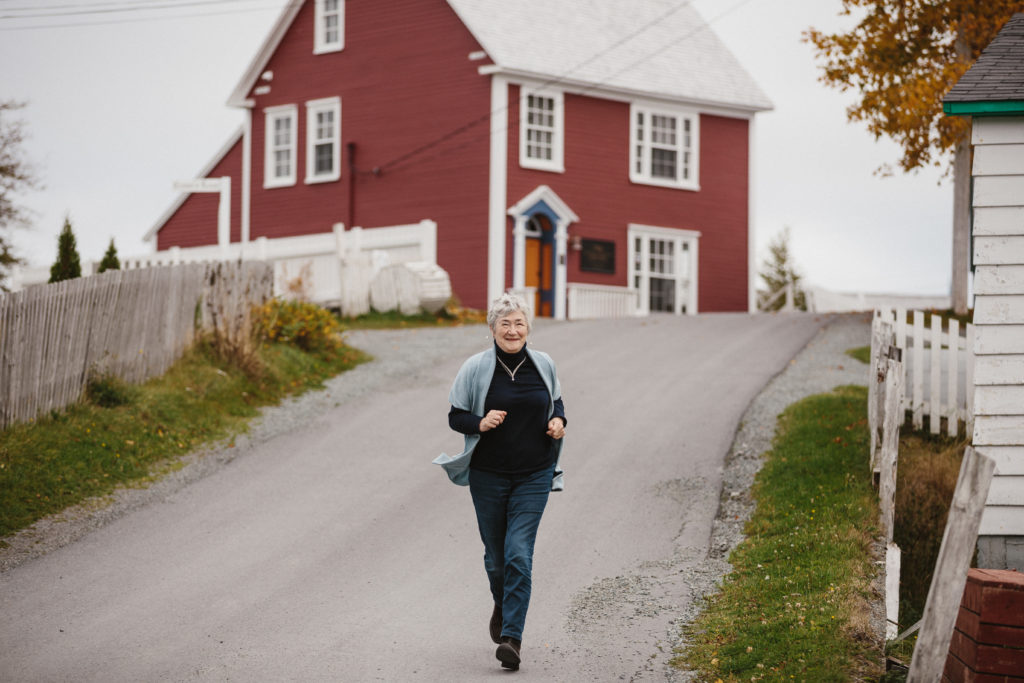 May 1st, 2020
This weekend would have marked a flurry of activity at the Artisan Inn & Twine Loft: the beginning of our 2020 season and our 30th year of operation since opening in 1991. However, due to the COVID-19 pandemic, we are unsure exactly when we will be able to fully reopen both our inn and dining room in historic Trinity. Our hope is to open a number of our vacation homes when the time is right (please see below for info on requesting reservations). When we feel that operating is safe for both our guests and employees alike. We will be updating our website and social media feeds regularly. Please feel free to contact us directly regarding any of our properties, possible opening dates, or to make a waitlist request.
Availability can be seen through our online booking engine, although we have disabled the ability to book directly online to allow us to have the appropriate conversations with anyone hoping to visit us this summer.
We are grateful for how diligently the people of Newfoundland and Labrador have worked to keep COVID-19 under control in our province. Everyday, the enormous collective effort being made brings us one step closer to having our tourism industry return to work. Work that employs over 20,000 people throughout the province. Work that shares what this beautiful place has to offer; with residents of our province and eventually, once again with visitors.
We are saddened that many of our expected guests will be, understandably, unable to make the journey to Trinity this season. Many who have been in the fortunate position to do so have already begun to reschedule their reservations or have requested gift certificates in lieu of refund. We are thankful for your continued support and look forward to having you join us on the beautiful Bonavista Peninsula. Details on our adjusted cancellation policies can be found here.  
Please stay safe,
Tineke Gow
Artisan Inn & Twine Loft
info@trinityvacations.com
1-709-464-3377
REQUESTING VACATION HOMES FOR 2020
The Artisan Inn is not currently taking new reservation requests for vacation homes during the period of May 1st – June 1st
For vacation home booking requests starting on or after June 1st, please provide the following information:

Your name & phone number.
The dates you are interested in (flexible date requests are accepted, Example: Anytime during the first 2 week of July).  Two or Three night minimums may be required, depending on the home.
Which vacation home(s) you are interested in or what bedroom/bathroom arrangements you require (some homes that are currently unavailable for certain dates on our availability calendar may have reservations that are likely to be cancelled).
Describe your group: Number of guests and if your party is a single bubble, double bubble or people not in a double bubble hoping to get together once restrictions allow.  Please be honest in your responses, this is a matter of health and safety.
Please be patient with us.  We are navigating through unfamiliar waters and are constantly having to modify our plans for the season.  We need to protect our staff, our guests and our community.  We recognize that you want to have some guarantees in your plans and promise to keep our lines of communication open and up to date whenever possible. For now, we will be wait listing requests as the province's situation develops.
WHAT BEING ON A WAITLIST MEANS:
A house may be shown as available for the dates you requested in our online booking system (our system can still show availability, but is disabled for bookings), however, we will need to take all of our reservation requests for that date into consideration before assigning a house to a request.  It is important for us to manage the number of total guests staying in our community at a given time. We do not want a situation where the residents of Trinity feel overwhelmed as we operate during the pandemic.  If we are nearing the maximum capacity of guests we feel comfortable hosting on a particular night, we may only accept additional bookings of a particular size or chose to leave a house empty.
Homes that are shown as unavailable in our online booking system may be currently booked by clients who won't be able to make it to the island because of travel restrictions.  We do encourage waitlist requests for these properties and we can indicate if we think there is a likelihood of it becoming available.
We will ask for a deposit and confirm a home when we feel more confident that residential leisure travel is going to be ok.
Waitlists are not first come first serve.  Smaller bookings or bookings with particular check-in and check-out dates that allow us to manage our housekeeping schedule may be prioritized in the list
RESTRICTIONS:
Groups cannot rent more than one Artisan Inn Vacation Home for the purpose of sleeping in separate homes but having get togethers with everyone in one home, unless we have given permission to do so.
Guests will be asked to sign a waiver recognizing the inn's vacation home rental policies.  Guests not respecting these regulations may be asked to leave and will be charged for the entirety of their booked stay.  Some regulations may have specific charges outlined (Example: not leaving your dishes for staff to clean) which may be requested as a compliance/damage deposit on the check-in date.  The person signing this digital waiver will be:

Declaring that you are a single bubble or double bubble (this applies while this regulation is in place in NL and is meant to protect the amount of exposure to different bubbles our staff are exposed to when cleaning).
Agreeing to how the house should be left when guests check-out (dishes cleaned, garbage properly disposed of, no damage to the house or furniture).
Listing the names of all the guests under the reservation.
Agreeing to not allow additional people into the home.
Agreeing to treating the local residents with respect by maintaining proper social distancing and wearing a medical or non-medical mask when visiting local businesses.

Only guests listed under the reservation are permitted in a vacation home when it is being rented.