May 31st 2020: MOVING INTO LEVEL THREE
While the Newfoundland and Labrador Government plans to announce the easing of restrictions around movement in Level 3 (likely early June), their official stance is that Staycations will be promoted in Level 2.
We have been busy readjusting our vacation homes to reduce unnecessary touchpoints and increase the overall level of comfort for both guests and staff as we operate throughout this pandemic.  We plan to have Cove Cottage, Nathaniel House, Gover House and the Studio Suite open soon for rent. Blueberry will be available in July. We are still determining what our minimum night stay limit should be for each individual house, but please feel free to inquire.
6 persons will be the max number of guests permitted for a vacation home rental and only guests listed under the rental are permitted in the building.
With the exception of the Studio Suite, we do not have plans to open the rooms in the near future.
The restaurant will stay closed even as we enter into level three.  Operating at 50% capacity means we would just break even with in-house service if we ran every night at full capacity.  We are taking this time to determine if adjusting our product for take-out makes sense, or if leaving the restaurant closed makes the best financial sense during these uncertain times.
Please feel free to contact us info@trinityvacations.com should you have any questions.
Stay Safe
Marieke Gow & Tineke Gow
May 1st 2020: A LETTER ABOUT OUR SEASON
Learn how to request a vacation home for this season further down on this page.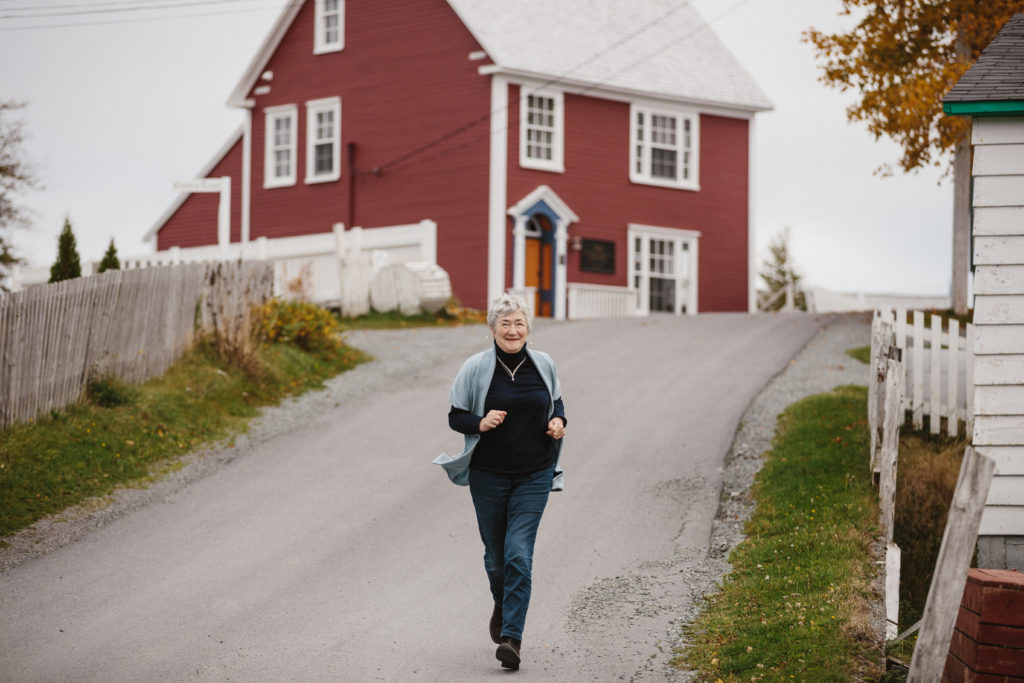 May 1st, 2020
This weekend would have marked a flurry of activity at the Artisan Inn & Twine Loft: the beginning of our 2020 season and our 30th year of operation since opening in 1991. However, due to the COVID-19 pandemic, we are unsure exactly when we will be able to fully reopen both our inn and dining room in historic Trinity. Our hope is to open a number of our vacation homes when the time is right (please see below for info on requesting reservations). When we feel that operating is safe for both our guests and employees alike. We will be updating our website and social media feeds regularly. Please feel free to contact us directly regarding any of our properties, possible opening dates, or to make a waitlist request.
Availability can be seen through our online booking engine, although we have disabled the ability to book directly online to allow us to have the appropriate conversations with anyone hoping to visit us this summer.
We are grateful for how diligently the people of Newfoundland and Labrador have worked to keep COVID-19 under control in our province. Everyday, the enormous collective effort being made brings us one step closer to having our tourism industry return to work. Work that employs over 20,000 people throughout the province. Work that shares what this beautiful place has to offer; with residents of our province and eventually, once again with visitors.
We are saddened that many of our expected guests will be, understandably, unable to make the journey to Trinity this season. Many who have been in the fortunate position to do so have already begun to reschedule their reservations or have requested gift certificates in lieu of refund. We are thankful for your continued support and look forward to having you join us on the beautiful Bonavista Peninsula. Details on our adjusted cancellation policies can be found here.  
Please stay safe,
Tineke Gow
Artisan Inn & Twine Loft
info@trinityvacations.com
1-709-464-3377
REQUESTING VACATION HOMES FOR 2020
The Artisan Inn is not currently taking new reservation requests for vacation homes during the period of May 1st – June 1st
For vacation home booking requests starting on or after June 1st, please provide the following information:

Your name & phone number.
The dates you are interested in (flexible date requests are accepted, Example: Anytime during the first 2 week of July).  Two or Three night minimums may be required, depending on the home.
Which vacation home(s) you are interested in or what bedroom/bathroom arrangements you require (some homes that are currently unavailable for certain dates on our availability calendar may have reservations that are likely to be cancelled).
Describe your group: Number of guests and if your party is a single bubble, double bubble or people not in a double bubble hoping to get together once restrictions allow.  Please be honest in your responses, this is a matter of health and safety.
Please be patient with us.  We are navigating through unfamiliar waters and are constantly having to modify our plans for the season.  We need to protect our staff, our guests and our community.  We recognize that you want to have some guarantees in your plans and promise to keep our lines of communication open and up to date whenever possible. For now, we will be wait listing requests as the province's situation develops.
WHAT BEING ON A WAITLIST MEANS:
A house may be shown as available for the dates you requested in our online booking system (our system can still show availability, but is disabled for bookings), however, we will need to take all of our reservation requests for that date into consideration before assigning a house to a request.  It is important for us to manage the number of total guests staying in our community at a given time. We do not want a situation where the residents of Trinity feel overwhelmed as we operate during the pandemic.  If we are nearing the maximum capacity of guests we feel comfortable hosting on a particular night, we may only accept additional bookings of a particular size or chose to leave a house empty.
Homes that are shown as unavailable in our online booking system may be currently booked by clients who won't be able to make it to the island because of travel restrictions.  We do encourage waitlist requests for these properties and we can indicate if we think there is a likelihood of it becoming available.
We will ask for a deposit and confirm a home when we feel more confident that residential leisure travel is going to be ok.
Waitlists are not first come first serve.  Smaller bookings or bookings with particular check-in and check-out dates that allow us to manage our housekeeping schedule may be prioritized in the list
RESTRICTIONS:
Groups cannot rent more than one Artisan Inn Vacation Home for the purpose of sleeping in separate homes but having get togethers with everyone in one home, unless we have given permission to do so.
Guests will be asked to sign a waiver recognizing the inn's vacation home rental policies.  Guests not respecting these regulations may be asked to leave and will be charged for the entirety of their booked stay.  Some regulations may have specific charges outlined (Example: not leaving your dishes for staff to clean) which may be requested as a compliance/damage deposit on the check-in date.  The person signing this digital waiver will be:

Declaring that you are a single bubble or double bubble (this applies while this regulation is in place in NL and is meant to protect the amount of exposure to different bubbles our staff are exposed to when cleaning).
Agreeing to how the house should be left when guests check-out (dishes cleaned, garbage properly disposed of, no damage to the house or furniture).
Listing the names of all the guests under the reservation.
Agreeing to not allow additional people into the home.
Agreeing to treating the local residents with respect by maintaining proper social distancing and wearing a medical or non-medical mask when visiting local businesses.

Only guests listed under the reservation are permitted in a vacation home when it is being rented.