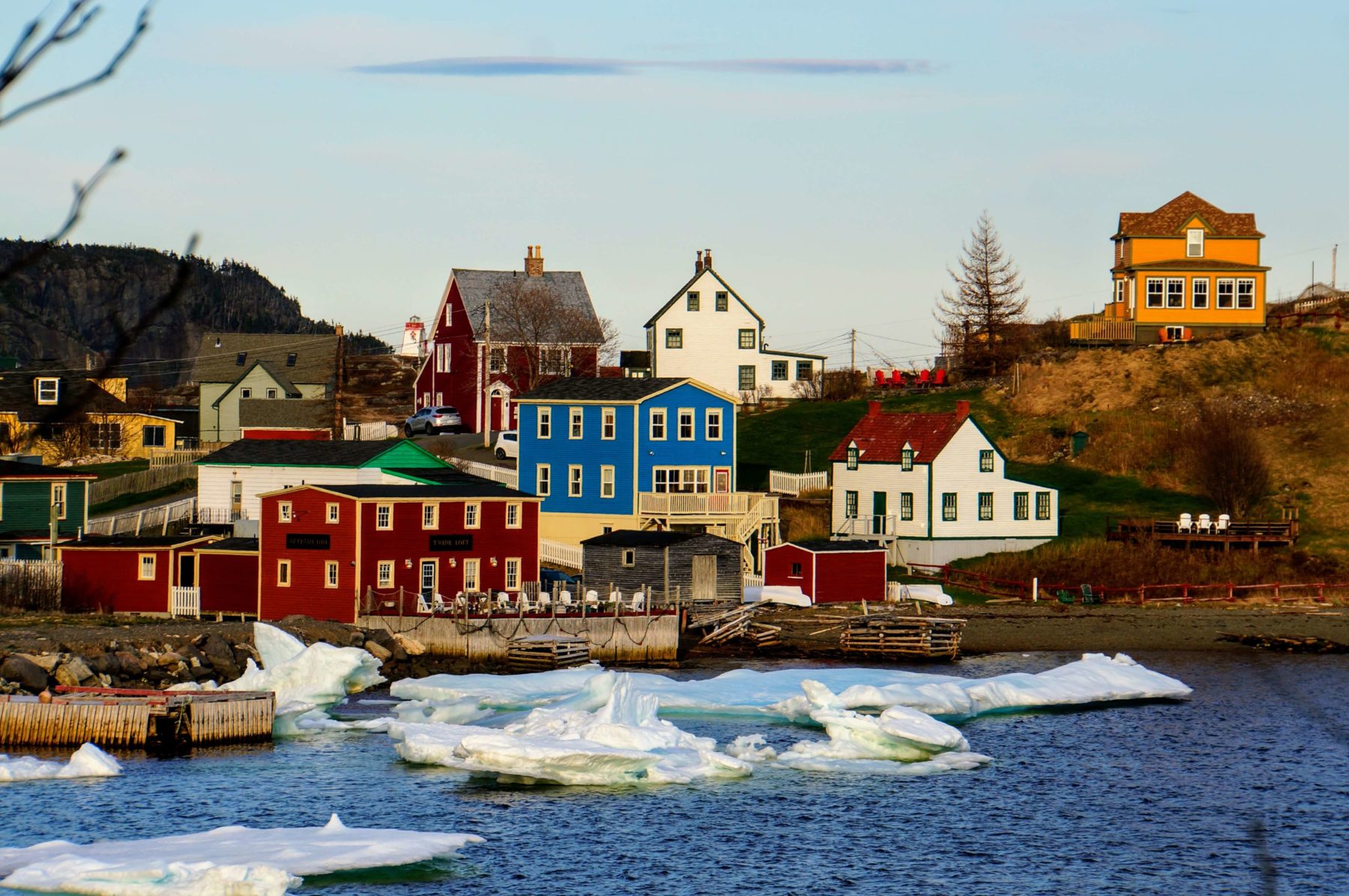 This should be used as a general guide, but always check current operating info with a business  prior to going. If you are a business that would like to be listed, or your status has changed since we last checked, please email info@trinityvacations.com.
THE ARRIVAL OF ICEBERGS
Trinity and Bonavista Bay are part of Iceberg Alley, a stretch of ocean that icebergs travel along throughout Spring and Early Summer. the Bonavista Peninsula often sees the arrival of icebergs early in the season with many being viewable from land, while others are better observed by one of the various boat tour operators in our area.  The largest concentration of icebergs typically arrives between May and June. No two iceberg seasons are the same.  Take comfort in knowing that if you come during a poor iceberg year you will still have plenty to do on the Bonavista Peninsula. The first icebergs arrived in our region mid April 2022!
Newfoundland Iceberg Reports is a crowd sourced Facebook page where Newfoundlanders and visitors can contribute iceberg reports and photos instantly.
Nature Focused Boat Tours
There are 2 boat tour operators in Trinity.  Their ability to go out during the month of May is based on ice, weather and a minimum number of people, although many are willing to do a full tour if 2 or 3 people are willing to pay the equivalent of 4 passengers, which is often their minimum.   Check out Sea of Whales Adventures and Trinity Eco Tours
Dine in Trinity
Our TWINE LOFT DINING ROOM  is recommended by Where to Eat in Canada and Lonely Planet and opens May 5th.  The restaurant is licensed to serve the public so one does not need to be a guest of the inn to make a reservation, however, during the first two weeks of May, if we don't have guests of the Artisan Inn & Vacation Homes, we will only operate if a minimum of 6 people in general book (this could be from a combination of different reservations like a table of 2 and 4).   If you are the first person to request a reservation for a particular evening, we will contact you to confirm we are operating once others request a reservation on that night. The Twine Loft serves one evening sitting at 7pm during the month of May and is open for Breakfast from 8am-10am (by reservation). We do not operate for breakfast on mornings that we do not have guests at the inn.
Other places to eat in Trinity during the Month of May
Dock Marina restaurant typically open for the season on Mother's Day weekend.  Please note they may not be operating every day of the week at the start of May.
Places To Eat On the Bonavista Peninsula
Two Whales Coffee Shop: Typically opens end of April for select days of the week
The Galley Restaurant: Will be operating in May, operating schedule to be determined.
Fisher's Loft Dining: Opening some time in May by reservation
Fireside Dining Located in Seaport Inn Port Union: Open in May for daily service.
Bonavista Social Club: please be advised that Bonavista Social Club has decided to remain closed for the 2022 season while the owner and head chef Katie Hayes is out of the province.
If you are en route to Trinity we suggest stops at Bare Mountain Coffee House in Clarenville & Newfoundland Cider Company in Milton
Appreciate Craft Beer at Port Rexton Brewery
The Port Rexton Brewery is one of Newfoundland's finest, award-winning microbreweries, located only a 10-minute drive from the Artisan Inn.  Please be advised that Taxi services are not available in the Trinity Bight area. You can also go to the brewery for Growler fill-ups and cans if you prefer to drink your craft beer back at your accommodations.  Please check their website and social media for the operating dates and times in May.  Oh My Cheese's operates a grilled cheese service at the Brewery.
Shopping in Trinity
Mirabella Artisan Studio & Shop: Locally hand made jewelry this shop intends to open early May. Please visit their website for updates on hours and operating dates.
Aunt Sarah's Chocolate (Also serving Sweet Rock Ice Cream): Located in Trinity. Typically opens end Victoria Day Weekend near end of May.  Online ordering is often possible before their season.
Art's Gallery: Located in the same building as the Dock Marina, this large store carries Newfoundland books, jewelry, quilts, apparel, and other crafts. Typically opens first week of May.
Craft Shop at Lester Garland Building: Should be opening around the Victoria Day Weekend.
Green Family Forge: Forge will likely open to the public around Victoria Day Weekend. The items crafter by the blacksmith can be purchased at the shop.
Hike Discovery Self Guided Local Hikes
The shoulder season means you will be sharing the trails with fewer travellers.  Guests can spend multiple days hiking various trails ranging from 2 to 50 minutes away from the Artisan Inn.  For more details on the below trails, visit our HIKING SECTION.  
Skerwink Trail – Moderate to Difficult
5.3km Loop
Approximately 2 hours
Gun Hill Trail – Easy to Moderate
2km Lower Loop Trail, 1km Upper Trail
Approximately 1-2 hours for both
Fox Island Trail – Moderate
5.5km Loop
Approximately 2 hours
Murphy's Cove Trail – Moderate
7.7km Loop
Approximately 3 hours
Cape Shore Trail – Easy
3.5 km One-way
Approximately 1 hour One-way
Lighthouse Trail – Easy
3.5km outside loop, 1.7km inside loop
Approximately 1.5 hours Outside Loop, 45 minutes Inside Loop
Klondike Trail – Easy
3.0 km One-way
Approximately 1 hour One-way
DETAILED INFORMATION ON HIKING TRAILS
Places to Visit During Day Trips from Trinity
Detailed driving directions to these sites are outlined in the multi-day itinerary you will be provided upon check-in.
Dungeon Provincial Park – Discovery Unesco Geopark Site
Spillar's Cove Sea Stack – Discovery Unesco Geopark Site
Tickle Cove Sea Arch – Discovery Unesco Geopark Site
Fort Point Lighthouse and Beach
Horsechops – English Harbour
Elliston Root Cellars Discovery Unesco Geopark Site
Sealer's Memorial Statue in Elliston
John Cabot Statue in Bonavista
Bonavista Lighthouse
Port Union Fossils Discovery Unesco Geopark Site
Bonavista Biennale Exhibit in King's Cove: Upside Down Trees
For information about the geological attractions listed above, visit our page
Take in the Architecture of Trinity
Walk the white-picket-fence lined streets of Trinity and take in the unique heritage architecture. Some homes in Trinity date back to the early 1800s.  The town was used as the backdrop for the film Maudie which won Best Picture at the Canada Screen Awards in 2018. There are plenty of rocky beaches, perfect for finding sea glass and interesting shells.
Visit our PHOTO TOUR OF TRINITY page to find out what you will see during a stroll around town.
Learn More about MOVIE SETS AND LOCATIONS in Trinity Bight
Relax At The Artisan Inn and take time to do nothing!
The Bonavista Peninsula is a stunning destination.  One of the most common complaints we hear from guests at check out is that they forgot to schedule the time to do nothing.   Even on days of cooler, or even wild weather, curling up with a book in one of our properties can do wonders for the soul.  We provide copies of The Grand Seduction, Maudie, Random Passage and The Shipping News to guests to watch in their rooms or vacation homes, as well as directions to many locations where these films were shot. If you love history and are disappointed to be missing some of the historic sites and museums, make history part of your experience by renting one of our homes or rooms, built in the 1800s (Gover House, Campbell House, Nathaniel House, Admiral's Lookout).
The Arrival of Puffins in Elliston
Puffins typically arrive in the region mid May and are best view in Elliston.