The staff of the Artisan Inn has worked hard to gather this information to help visitors with their trip planning.  If you are a business on this list and your information is not correct please email info@trinityvacations.com to provide updates.  If you are not on this list and would like to be please also contact us.  
Please always call ahead to businesses as information may have changed without us being notified. Operating while the COVID-19 pandemic is ongoing makes running a business very challenging. Please be patient with operators if their hours do not line up as advertised, they decide to close or do things differently than advertised. Information and protocols are changing on a daily basis.
PRINT OFF THE PDF VERSION FOR YOUR TRAVELS fall guide 2021
TRINITY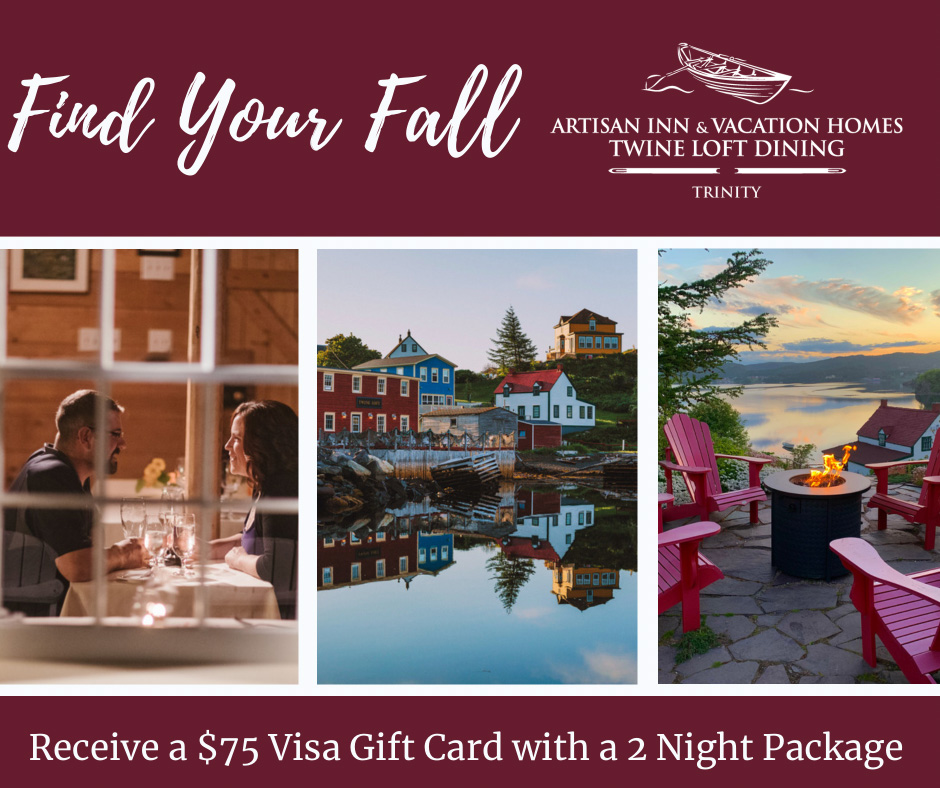 WHERE TO STAY
The Artisan Inn will keep all vacation homes open until the end of October .  Rooms and Suites and Twine Loft dining will remain open until October 23rd.
WHERE TO EAT
Twine Loft Evening Dining Recommended by Where to Eat In Canada 2019-2020 Edition. Operating until Saturday October 23rd 2021, re-opening May 2022

Evening Dining: & Drinks on the Deck
$60 per seat. Dinner service is at 7pm each night. Dinner is a 3-course meal with choices for the appetizer and main course and one set dessert. Gluten-free, dairy-free, vegan and vegetarian diets can be accommodated. Dinner guests may come prior to dinner for pre-dinner drinks at their table or on the waterside deck. On select dates, we may require a minimum number of dinner guests for us to operate if we do not have reservations from guests staying in our own properties.  Call 1-709-464-3377 to book or email info@trinityvacations.com. A credit card number is required to hold the reservation. 
ADDITIONAL RESTAURANTS IN TRINITY
Skipper Bob's Café: Hoping to remain open until the end of October . 8am – 4pm daily   709-464-3712
The Dock Marina: Last day October 17th 2021:   11:30pm-7:30pm 
Trinity Cabins: Last day October 17th 2021 : Wed & Thursday 8:00am-2:00pm, Friday Sat 8:00am-7:00pm, Sunday 8:00am-2:00pm, Closed Monday & Tuesday
HISTORY IN TRINITY
HISTORY IN TRINITY – SELECT HISTORIC SITES ARE OPEN
Trinity Visitor's Centre and historic sites: Open 9:30am – 5:00pm until Friday October 9th of Thanksgiving Weekend
The Ryan Shop / Mercantile Premises in Trinity
St. Paul's & Holy Trinity Churches
GUIDED HISTORY TOUR
Trinity Historical Walking Tours: Trinity Historical Walking Tours is finished for the season, however, it may be possible to arrange a private tour. 709-464-3723  709-363-8528
Even without a tour option, exploring the unique architecture of Trinity is worth a walk through town.
HIKING IN TRINITY – GUN HILL TRAIL
Easy (very top can be difficult)
2km Lower Gun Hill Trail (loop)
1km Upper Gun Hill Trail
1-2 Hours to complete both trails
The Experience:
Gun Hill, formerly known as Ryder's Hill is located at the base of Trinity.  The upper trail leads straight to the top of the hill for a fantastic 360 degree view of the entire area and offers a great vantage point for picture taking.  Halfway up the trail hikers will find the cannons that once protected Trinity from attacks during the wars between the French and the English. A photo of Trinity taken in 1910 is on display that allows visitors to see what ways the town has and has not changed over that past 100 years. The best time to take this hike is late afternoon. The town looks spectacular during the golden hour when the sun lowers over Fisher Cove. The walk takes approximately 20 to 30 minutes to get to the top and slightly less time to get down. This is also a great spot to watch the sunrise because the entire trail provides an unobstructed view towards the East.
THEATRE IN TRINITY – RISING TIDE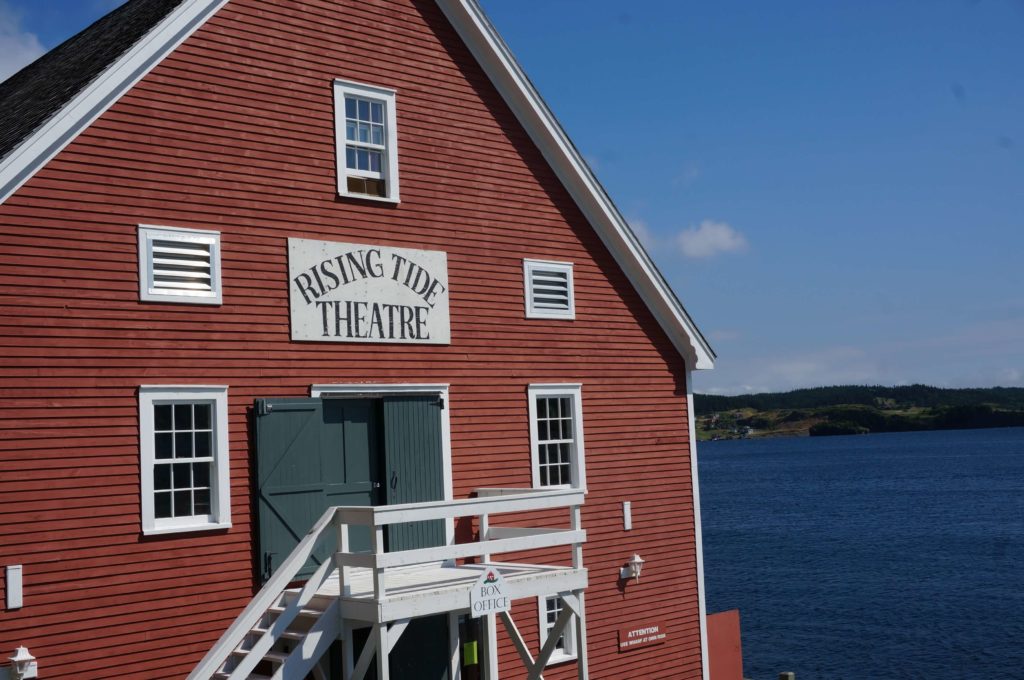 The Rising Tide Theatre: REVUE 2021
There will be a performance of REVIEW on October 16 2021 at the Rising Tide Theatre
BOAT TOURS IN TRINITY
Fall sightings include superpods of dolphins, various species of whales, bluefin tuna and bald eagles.  
Sea Of Whales Adventures:    709-464-2200.  Running dates depend on demand. 1-709-464-2200
Trinity Eco Tours: Whale watching, Kayaking and ATV tours available. 709-464-3712
BEACHES IN TRINITY
Trinity is almost completely surrounded by water and visitors can explore numerous beaches and search for sea glass.
SHOPPING IN TRINITY
Mirabella: Closes for the Season October 3rd 2021
The Dock Marina Gift Shop open until October 10th: 11:00pm-6pm (might adjust to 5pm depending on number of visitors)
Aunt Sarah's Chocolate Shop & Sweet Rock Ice Cream: Closes for the season October 3rd Even though the shop is closed guests can arrange for curb side pick up by ordering through their online shop. Please allow enough time to arrange a time that works for the shop manager.  
Trinity Craft Store ( The Hiscock House): Open until October 12th 2021
Eriksen Premises
 TEN MINUTES FROM TRINITY
TRINITY LOOP – ROUTE 239
Dawn Evans Photography
An Instagram favourite, the Trinity Loop is an abandoned amusement park that used to attract residential travellers from all over the island to ride the Ferris wheel, have fish and chips in a train car or ride the wooden train around the pond while being entertained by wooden cutouts of cartoon characters.   The Loop closed in the 1990s and over time the elements have taken it over. Even VICE has done an episode on this location that holds many memories for those of us who visited as kids. To get there leave Trinity and turn left onto Route 239. After passing Bartlett's Electrical on your right, you will see a sharp right-hand turn.  Drive for a few minutes up this paved road to reach the entrance and walk down to see the fallen Ferris wheel and the overgrown mini-golf course.
PORT REXTON 
To get there, turn right onto route 239 at the T intersection and drive 3.6km. Turn right onto route 230.
WHERE TO EAT
Port Rexton Brewery Taproom: Taproom hours will be open on Sundays from 12-6pm, closed Monday – Wednesday, Thursdays from 12-8pm, and Fridays & Saturdays from 12-10pm. Open on Thanksgiving Monday (October 11th) from 12-6pm. Weekly trivia nights will shift and be held monthly on Fridays (beginning this week October 1st)
Oh My Cheeses located at the brewery: Open Sundays 12:00pm-5:45pm, closed Monday to Wednesday, open Thursday 12-7:30, and Friday and Saturday 12:00-8:30
Two Whales Coffee Shop: Open 5 Days a week : Thursday, Friday open 10:00am-4:00pm , Saturday & Sunday 11:00am-4pm (CLOSED TUES-WED) Monday 10:00am – 4:00pm 709-464-3928
Head over to Two Whales online store (www.twowhales.com), phone 464 3928, or drop by to place your order!
The Galley:  709-464-3832 11:30-7:30pm throughout September and October.
Fisher's Loft 709-464-3232 Offering set sitting times at 7pm on Weekdays and 5pm and 7:30pm on Weekends (may require a minimum to operate)
HIKING
Skerwink Trail: See our Hiking and Walking Page for details on this hike
FIFTEEN  MINUTES FROM TRINITY
CHAMPNEY'S WEST
A beautiful community with fishing sheds lining the water. There are no businesses (restaurants, shops or sites) open here at this time of the years. To get there, turn right onto route 239 at the T intersection and drive 3.6km. Turn right onto route 230. Drive past Port Rexton, Passing the Two Whales Coffee Shop and take the next right to Champney's West. You will reach a fork in the road and stay to the right. This drive from the 239/230 turn off is 7.2km.
HIKING:
Fox Island Trail: See our HIKING AND WALKING GUIDE for more details
TWENTY MINUTES FROM TRINITY:
FORT POINT LIGHTHOUSE ROUTE 239
20 minutes from Trinity, Fort Point, also known as Admiral's Point, offers a view of Trinity from the other side of Trinity Harbour.  This is where a British fortification stood until it was destroyed during a 15-day period when the French occupied Trinity in 1762.  The second installation of a fort was in 1812 to serve as protection against the raids of American privateers.  After the fort was abandoned, a lighthouse was installed in 1871. There is also a great beach to walk along.
TWENTY – FIVE MINUTES FROM TRINITY: PORT UNION 
Turn right onto route 239 at the T intersection and drive 3.6km. Turn right onto route 230. Continue driving for 27.9km (approximately 25 minutes)
HISTORY
Sir William Coaker Foundation: The Factory Interpretation Centre will be open until November 22nd 2021.   9:00pm-5:00pm Tel: (709) 469-2207
WHERE TO HIKING
Murphy's Cove Trail: See our HIKING AND WALKING GUIDE for more details
WHERE TO EAT
Seaport Inn Fireside Dining Room: Open until mid October  2:00pm  – 7:00pm (Closed Monday & Tuesdays) 709-469-2257
Greco Pizza located at Seaport Inn: 1-709-469-2816
Stella's Café (in nearby Catalina): Open  11:00am – 7:00pm: Final closing date has not ben determined. Please call before going 1-709-477-2177 
WHERE TO SHOP
Women's Institute Gift & Craft Shop: Please call for operating hours 1 – 5 709-469-2823
Wild Cove Pottery: Open until October 10th 2021 Friday-Monday  10:00am – 5:00pm.  By appointment of chance after that 1-709-740-6925
Sir William Coaker Foundation: The Factory Interpretation Centre will be open until November 22nd 2021.   9:00pm-5:00pm until the end of October.   Tel: (709) 469-2207
HIKING & GEOLOGY
Murphy's Cove Lodges Pond Trail: See our HIKING AND WALKING GUIDE for more details
Fossils: Visit the Discovery UNESCO Geopark website for information about area's fossils
FORTY MINUTES FROM TRINITY: ELLISTON
WHAT TO DO
Sealer's Interpretation Centre  Centre Open 9-5:30  daily until October 10th. Post October 10th by appointment only 1-709-476-3003
Root Cellars: Drive to the Puffin Lookout parking lot (Puffin season ends late August) and explore the many root cellars dotting the hills.
HIKING
Klondike Trail: See our HIKING AND WALKING GUIDE for more details
FIFTY MINUTES FROM TRINITY: BONAVISTA
WHERE TO EAT
PK's Restaurant: Open daily, 9:00am- 9:00pm.  709-468-2828
Mary Browns: Daily 11:30am – 8:00pm 709-468-5444 
Robins Coffee Shop: Open daily from 6:00am – 9:00pm. 
Subway: Open daily 10:00 am – 8:00pm. 
Walkham's Gate Pub & Cafe:  12:00pm-6:00pm days of operation and closing date not determined. Please call ahead 709-468-7004 

Dungeon Distillery:  Closed Monday & Tuesday Wed-Thursday 3:00pm-10:0pm, Friday 3:00pm-11:00pm, Saturday 11:00pm-11:00pm, Sunday 12pm-9pm  (709) 218-2180
Note that the distillery has not begun distilling spirits yet, but they are open for food and bar service during the above times.
WHAT TO DO
Mockbegger Plantation: Open daily 9:30-5 closed from 1-2 for Lunch. Closing Oct 9th
Bonavista Lighthouse: Closed for tours but a beautiful place to walk around
Dungeon Provincial Park: Watch waves crash in and out of a collapsed sea cave
HIKING:
Cape Shore Trail: See our HIKING AND WALKING GUIDE for more details
ROUTE 235:
KING'S COVE, DUNTARA KEELS
HIKING
Lighthouse Trail: See our HIKING AND WALKING GUIDE for more details
The Wallpaper House (created for the 2021 Bonavista Biennale)
Devil's Footprints in Keels: Visit the Discovery Geopark Page to learn more about this geological formation.
TICKLE COVE
Tickle Cove Sea Arch Visit the Discovery Geopark Page to learn more about this geological formation.
PRINT OFF THE PDF VERSION FOR YOUR TRAVELS fall guide 2021