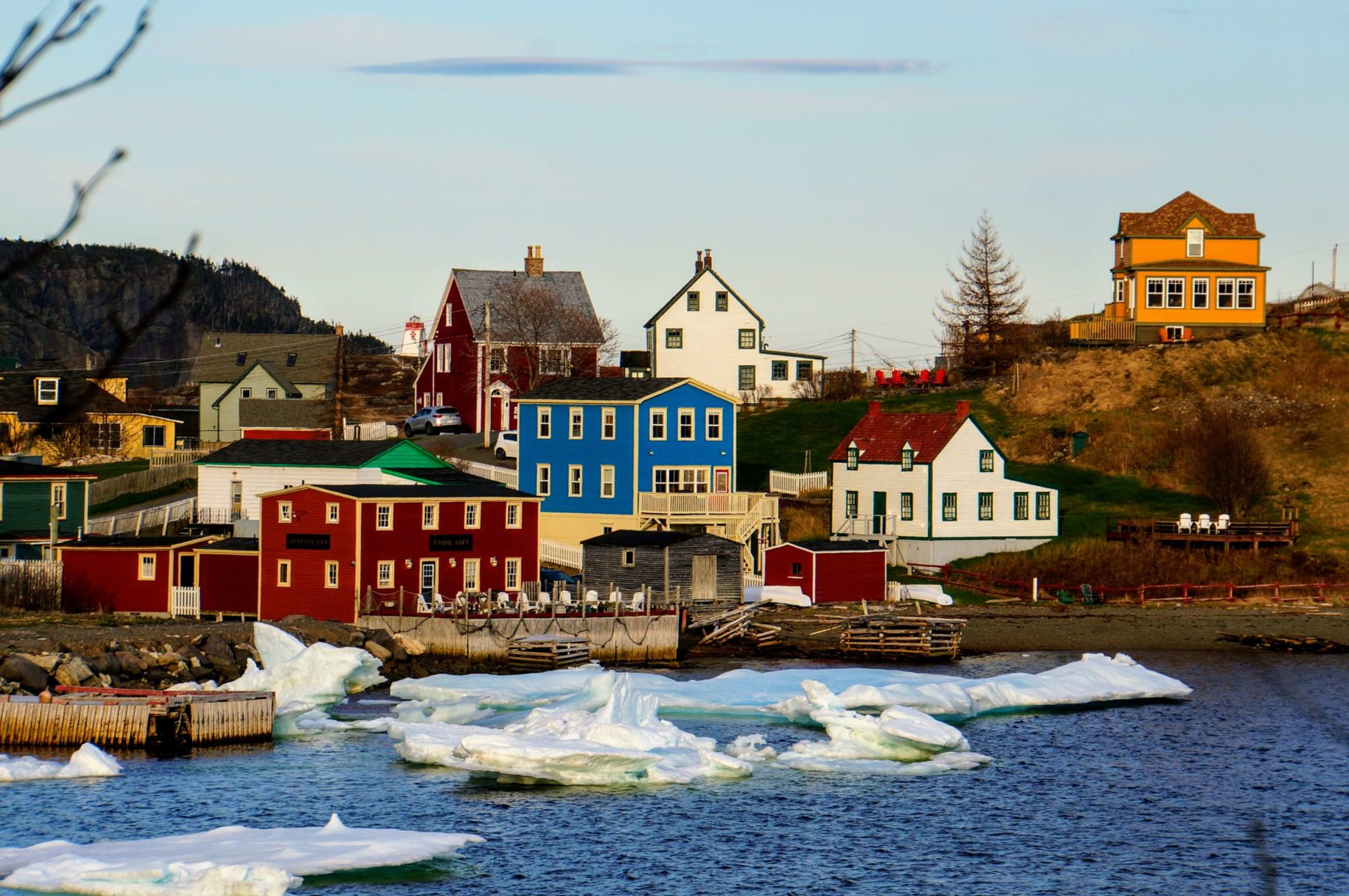 While Springtime in Newfoundland may be chilly, it is when the pack ice flows in and out of the harbour and icebergs begin to make their way past the Bonavista Peninsula.  We cannot guarantee the weather or nature, however, if you are lucky enough to witness the ice, you will be glad you decided to visit at this time of the year.  Guests who book at the Artisan Inn during the first 3 weeks of May will receive a multi-page itinerary with detailed driving directions featuring places open for dining, activities that have opened for the season and locations of hiking trails and scenic spots to visit.
THE ARRIVAL OF ICEBERGS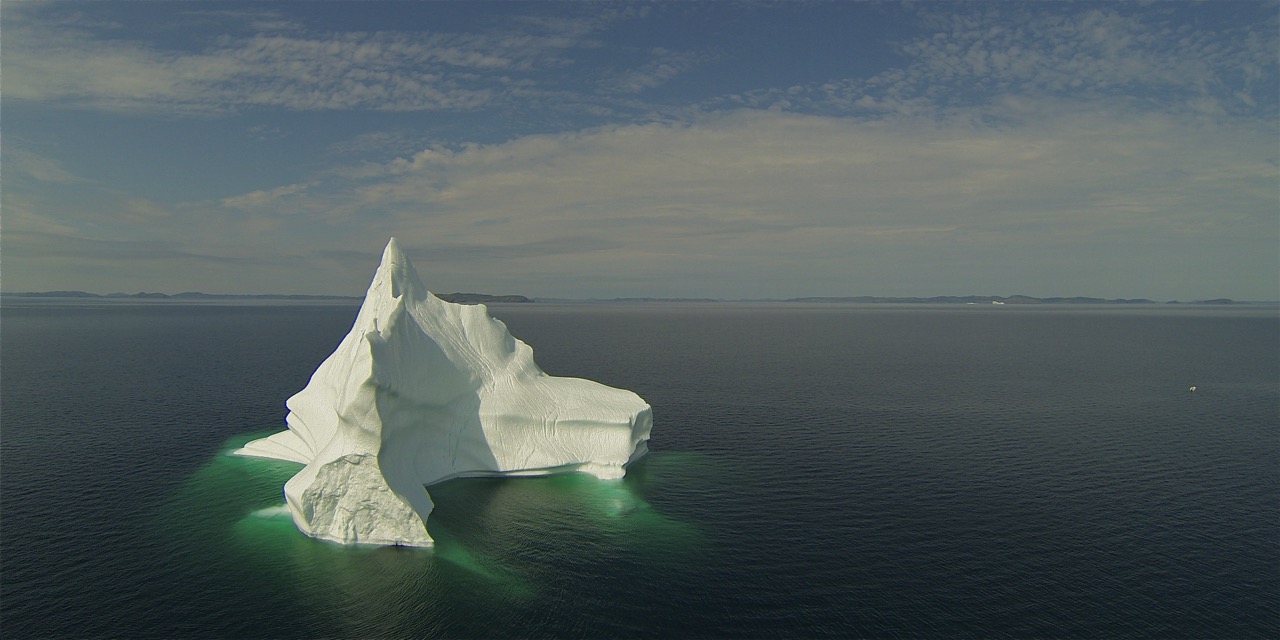 Trinity and Bonavista Bay are part of Iceberg Alley, a stretch of ocean that icebergs travel along throughout Spring and Early Summer. the Bonavista Peninsula often sees the arrival of icebergs early in the season with many being viewable from land, while others are better observed by one of the various boat tour operators in our area.  The largest concentration of icebergs typically arrives between May and June. No two iceberg seasons are the same.  Take comfort in knowing that if you come during a poor iceberg year you will still have plenty to do on the Bonavista Peninsula.
Newfoundland Iceberg Reports is a crowd sourced Facebook page where Newfoundlanders and visitors can contribute iceberg reports and photos instantly.
OPERATING BY MAY 3rd
Artisan Inn and Twine Loft Dining Open for the Season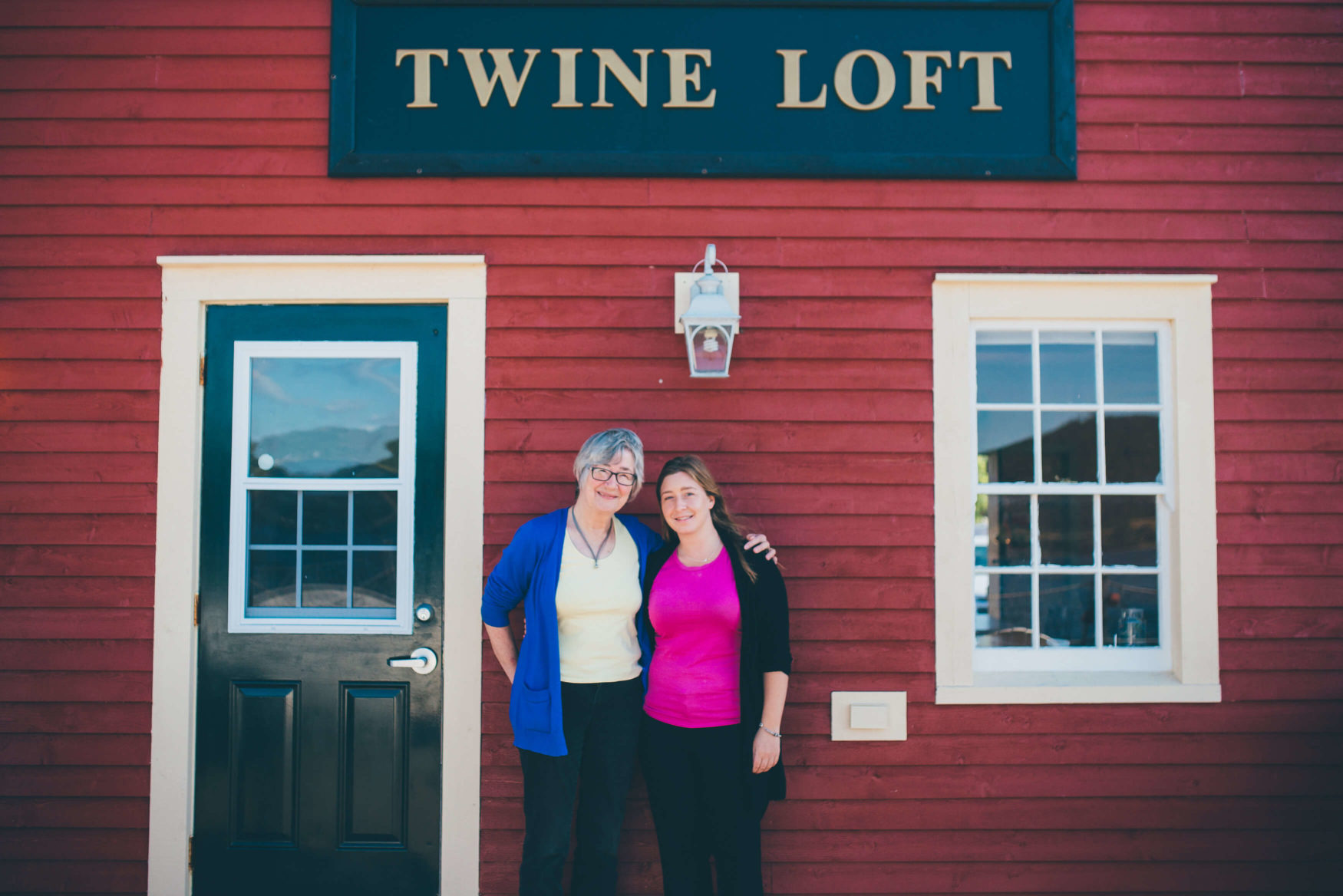 Options are somewhat limited compared to the summer season for dining, tours and shopping throughout the Bonavista Peninsula during the early weeks of May, however, Tineke, Marieke and the staff of the Artisan Inn can provide guidance on putting together a great itinerary.3Self catering accommodations open late April and the dining room opens May 5rd for Breakfast and Dinner services.  We offer special accommodation rates and stay and dine packages during the month of May. The date May 3rd is in relation to the 2019 season and might not be the specific date for future seasons. This is also weather dependant as the Twine Loft as freezing temperatures may impact our ability to turn on the restaurant's water during the first week of May.
Trinity Bight Yoga  and Wellness Festival May 3r, 4th and 5th 2019 ( Complete – Next years dates to be announced)
Visit www.hikediscovery.com for registration details or follow the Trinity Yoga and Wellness Festival Facebook Page
ART & MUSIC & POP UPS
Art Exhibit at the Two Whales Port Rexton: Seas, Trees & Breeze – A Look at Newfoundland Through Glass
May 2019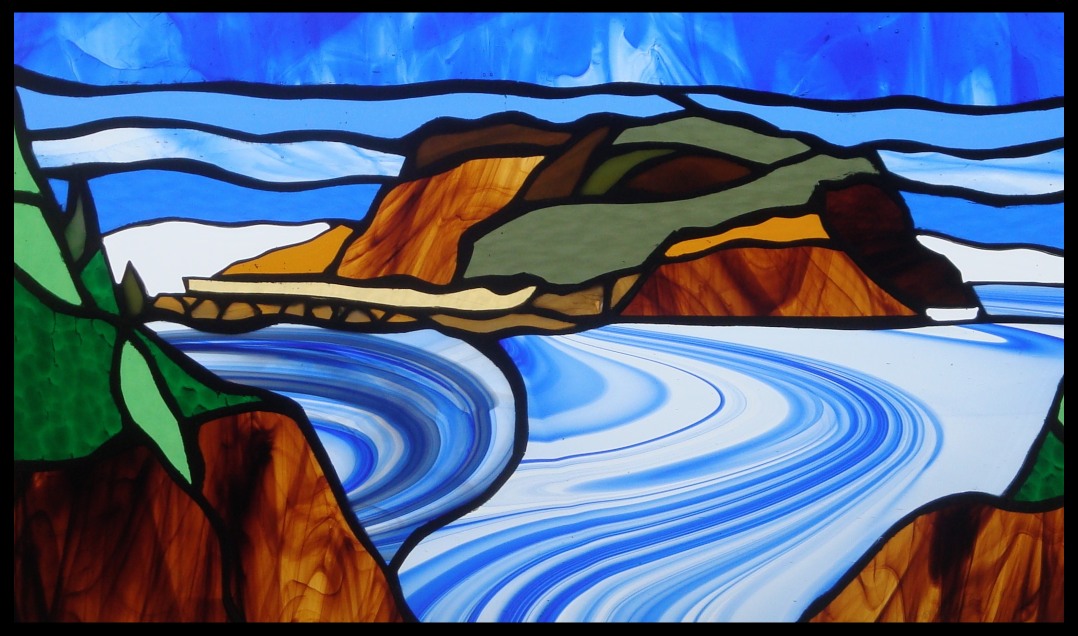 Bakers, Whalers and Grass Weavers
Art Exhibit at the Lester Garland House – Trinity
Starts May 8th

Port Rexton Brewing Co Mini Market – May 11 & 12th

Join us for our first ever Mini Market, happening in the taproom on Saturday, May 11th at 12p! Youth entrepreneurship can facilitate economic growth and provide them with valuable skills such as critical thinking, decision making, leadership, teamwork and innovation – all of which remain relevant for the rest of their lives. We want to encourage young entrepreneurs and give them an outlet and space to sell their goods, and present their skills!
Stop by the taproom on Saturday anywhere between 12-2p, to show your encouragement, buy some goods, support our youth, and maybe even find a Mother's Day gift!
Live at the Twine Loft in Trinity: Duane Andrews & Marijn Companjen – May 31st
Join us at the Twine Loft for a night of live guitar by candlelight featuring accomplished guitarists Duane Andrews and Marijn Compenjen. Tickets are available online by visiting our BOOK NOW section.  This event is 19+.
An optional 3-course pre-show dinner will be served at 6:00 pm for $55 plus tax per person.
Duane Andrews Bio
Duane Andrews's music is the product of a great ear, an adventurous spirit and a love of music that is beyond category. Uniting what would seem to be impossible – traditional Newfoundland music with the Gypsy Jazz of the legendary Django Reinhardt, Andrews makes it not just work – he makes it soar. The award winning guitarist, composer, producer and international performer's latest album, Raindrops, is the best evidence yet of his truly unique musical vision and is the sound of him, literally, bringing it all back home.
Marijn Companjen Bio
Marijn Companjen (Manny) moved to Canada in 2005 from The Netherlands, studied Music at the Conservatory of Enschede in The Netherlands and The School of Music Newfoundland (B.A Classical Guitar Performance). Manny toured and accompanied dancing classes throughout Holland, Belgium and Germany in the 90's and early 2000's and has been teaching in St John's for over a decade. He currently performs with the Cuban group Isla Son as well as solo and group performances in several disciplines such as Classical, Flamenco and Jazz. Manny is teaching out of his own studio in St John's.
Nature Focused Boat Tours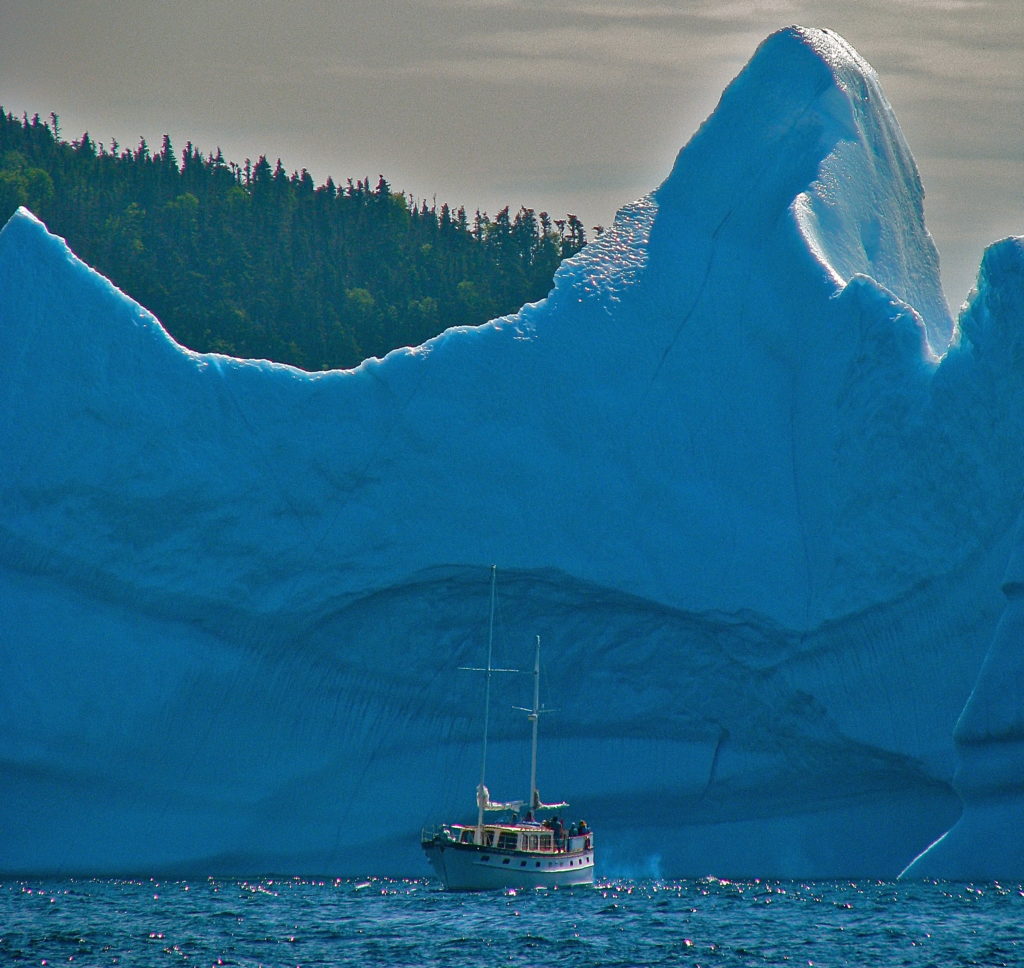 There are a number of tour operators in Trinity and two in Bonavista.  Their ability to go out is based on ice, weather and a minimum number of people, although many are willing to do a full tour if 2 or 3 people are willing to pay the equivalent of 4 passengers, which is often their minimum.  If icebergs are in the area, these boat tours can offer an experience you won't soon forget.
Dine in Trinity
Our dining room is recommended by Where to Eat in Canada and Lonely Planet.  The restaurant is licensed to serve the public so one does not need to be a guest of the inn to make a reservation, however, we will only operate on nights when we have guests of the Artisan Inn booked for dining or there is a minimum of 6 people booked from outside the inn.   If you would like to dine with us around this time, whether you are a guest of the inn or not, please contact us as soon as possible to make your reservations to help us know which days we should encourage others to book.  Stay and Dine Packages are available for the month of May.
Other places to eat in Trinity
The Dock Marina restaurant and its associated gift shop is also expected to open for the first weekend of May, open for both lunch and dinner, The Dock is casual and family friendly with a varied menu. Please contact the Dock to confirm their opening dates and time.
Throughout the Peninsula
A handful of dining establishments stay open for the entire month of May either 7 days a week or 5 days a week.  Restaurants include: Two Whales Coffee Shop, Boreal Diner, Fisher's Loft, Fishing Stage Takeout, Seaport Inn's Fireside Dining Room, The Galley Restaurant, Shannon's Pub and Harbour Quarters.  Please check with each individual establishment for Spring hours. Most dining establishments will be open for Victoria Day Weekend.
Appreciate Craft Beer at Port Rexton Brewery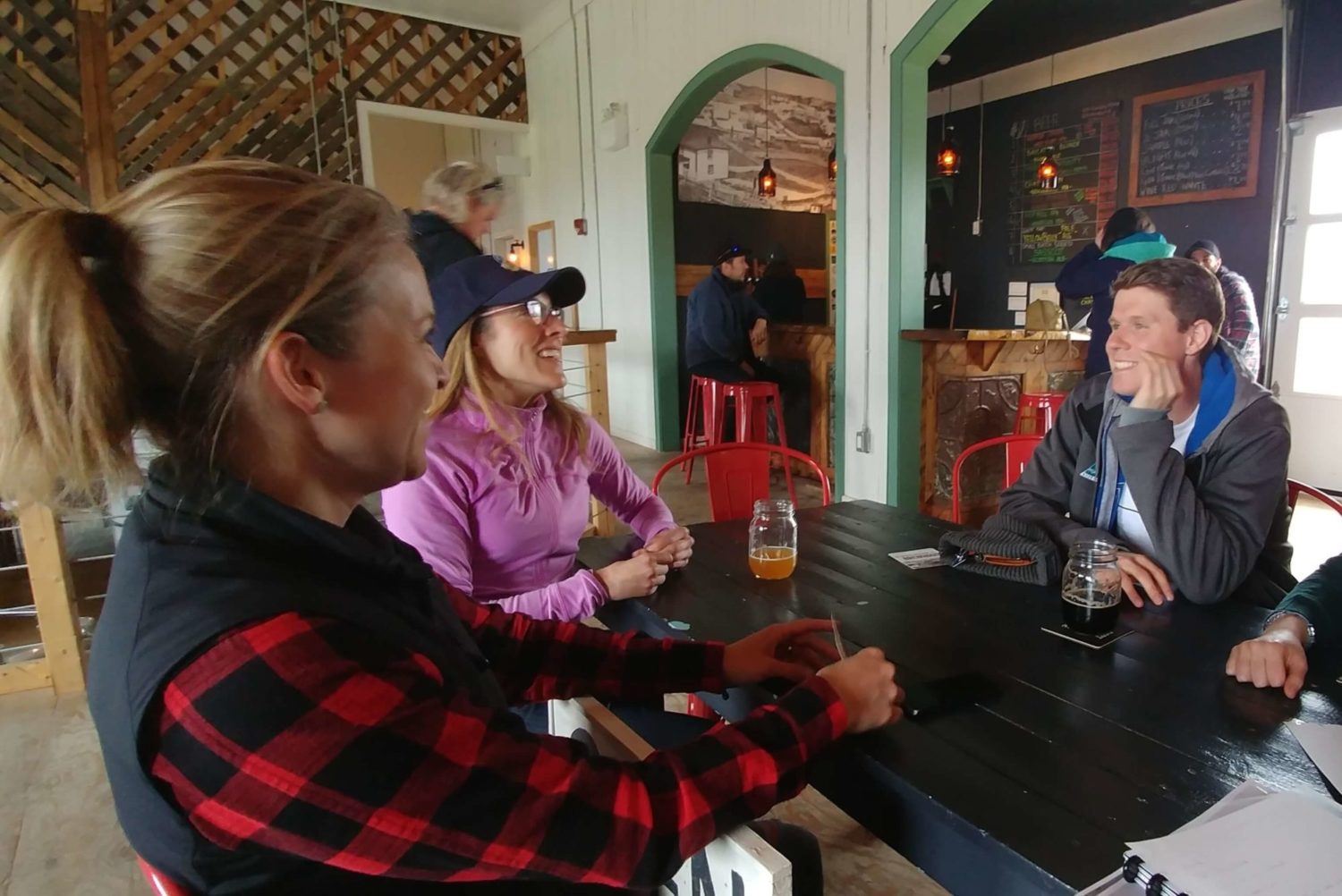 Open 7 days a week in May (please check with their social media for a specific start date to this schedule) the Port Rexton Brewery is one of Newfoundland's finest, award-winning microbreweries, located only a 10-minute drive from the Artisan Inn.  Please be advised that Taxi services are not available in the Trinity Bight area. You can also go to the brewery for Growler fill-ups if you prefer to drink your craft beer back at your accommodations.
Hike Discovery Self Guided Local Hikes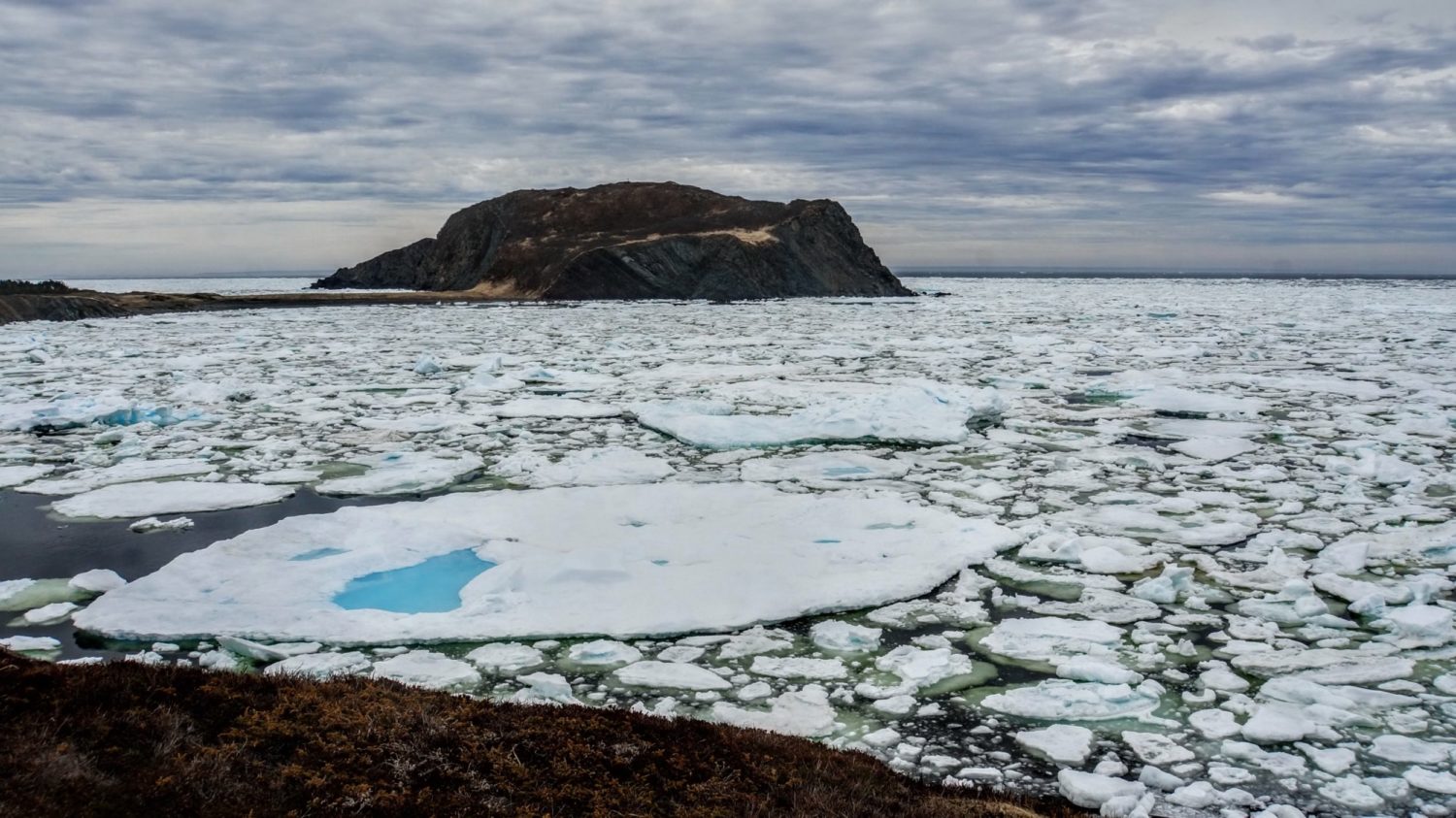 The shoulder season means you will be sharing the trails with fewer fellow travellers.  Guests can spend multiple days hiking various trails ranging from 2 to 50 minutes away from the Artisan Inn.  For more details on the below trails, visit our hiking section.  Consider downloading the Hike Discovery App or following the Hike Discovery Facebook Page for updates on trail closures due to Spring snow or special events taking place.
Skerwink Trail – Moderate to Difficult
5.3km Loop
Approximately 2 hours
Gun Hill Trail – Easy to Moderate
2km Lower Loop Trail, 1km Upper Trail
Approximately 1-2 hours for both
Fox Island Trail – Moderate
5.5km Loop
Approximately 2 hours
Murphy's Cove Trail – Moderate
7.7km Loop
Approximately 3 hours
Cape Shore Trail – Easy
3.5 km One-way
Approximately 1 hour One-way
Lighthouse Trail – Easy
3.5km outside loop, 1.7km inside loop
Approximately 1.5 hours Outside Loop, 45 minutes Inside Loop
Klondike Trail – Easy
3.0 km One-way
Approximately 1 hour One-way
DETAILED INFORMATION ON HIKING TRAILS
Places to Visit During Day Trips from Trinity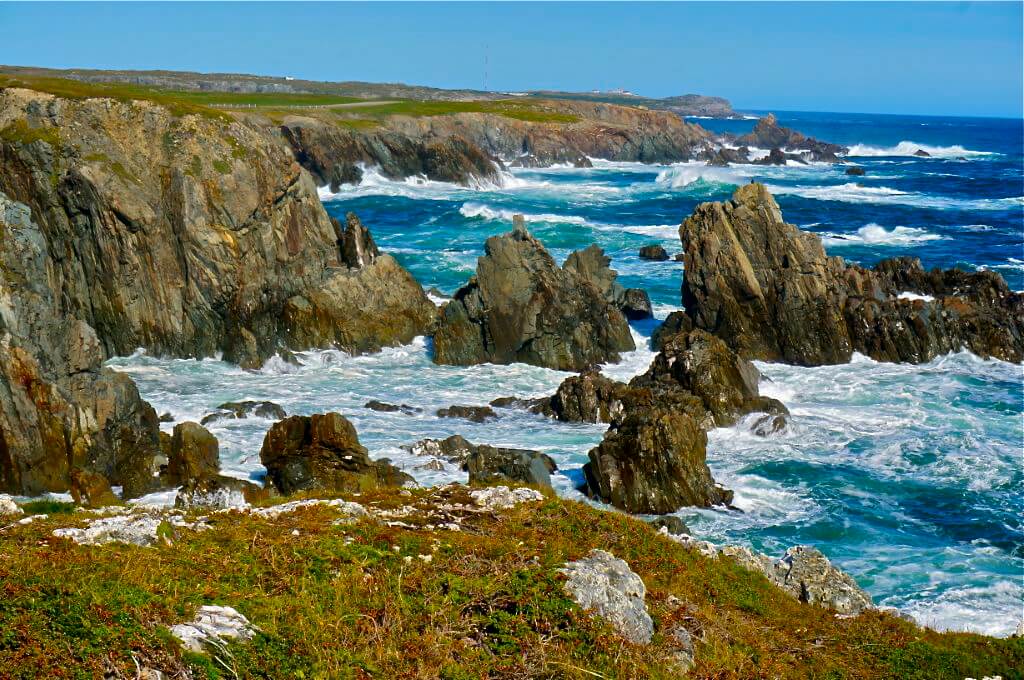 Detailed driving directions to these sites are outlined in the multi-day itinerary you will be provided upon check-in.
Dungeon Provincial Park
Spillar's Cove Sea Stack
Tickle Cove Sea Arch
Fort Point Lighthouse and Beach
Horsechops – English Harbour
Elliston Root Cellars
Sealer's Memorial Statue in Elliston
John Cabot Statue in Bonavista
Bonavista Lighthouse
Port Union Fossils
Bonavista Biennale Exhibit in King's Cove: Upside Down Trees
For information about the geological attractions listed above, visit our page
Tuckamore Discoveries Guided Hikes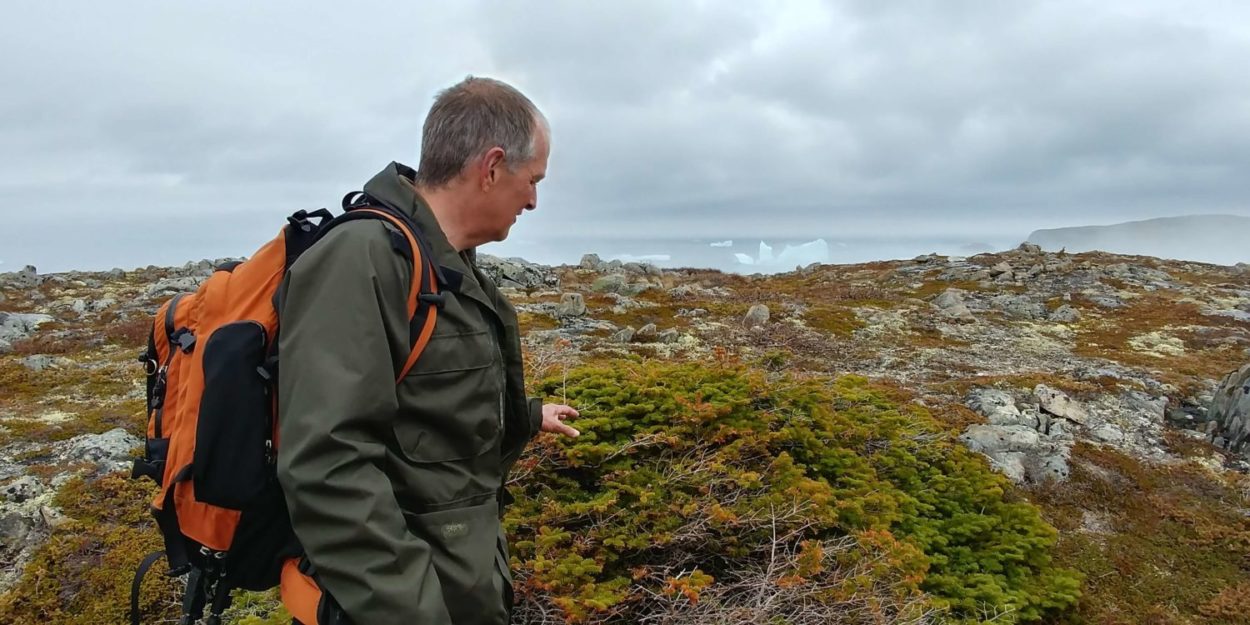 Jon Joy, the owner and guide of Tuckamore Discoveries will take you around Spillar's Cove, near Bonavista, and teach you about the local flora and fauna. Visit our GUIDED TOURS page to find out more about Jon and his tour.
Take in the Architecture of Trinity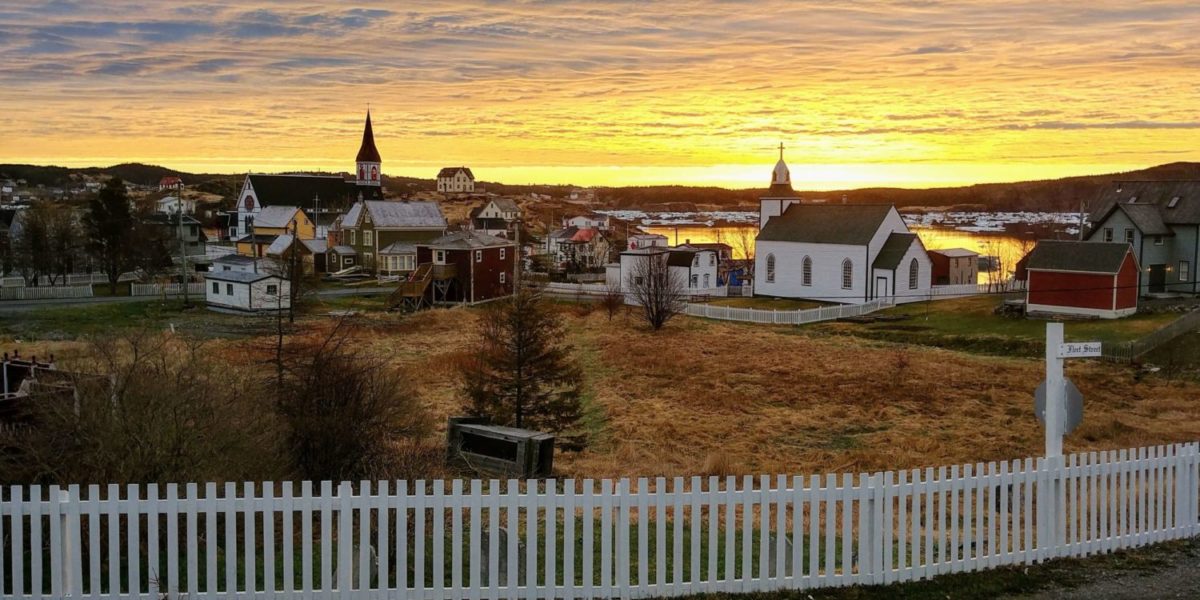 Walk the white-picket-fence lined streets of Trinity and take in the unique heritage architecture. Some homes in Trinity date back to the early 1800s.  The town was used as the backdrop for the film Maudie which won Best Picture at the Canada Screen Awards in 2018. There are plenty of rocky beaches, perfect for finding sea glass and interesting shells.
Visit our PHOTO TOUR OF TRINITY page to find out what you will see during a stroll around town.
Learn More about MOVIE SETS AND LOCATIONS
Visit the Green Family Forge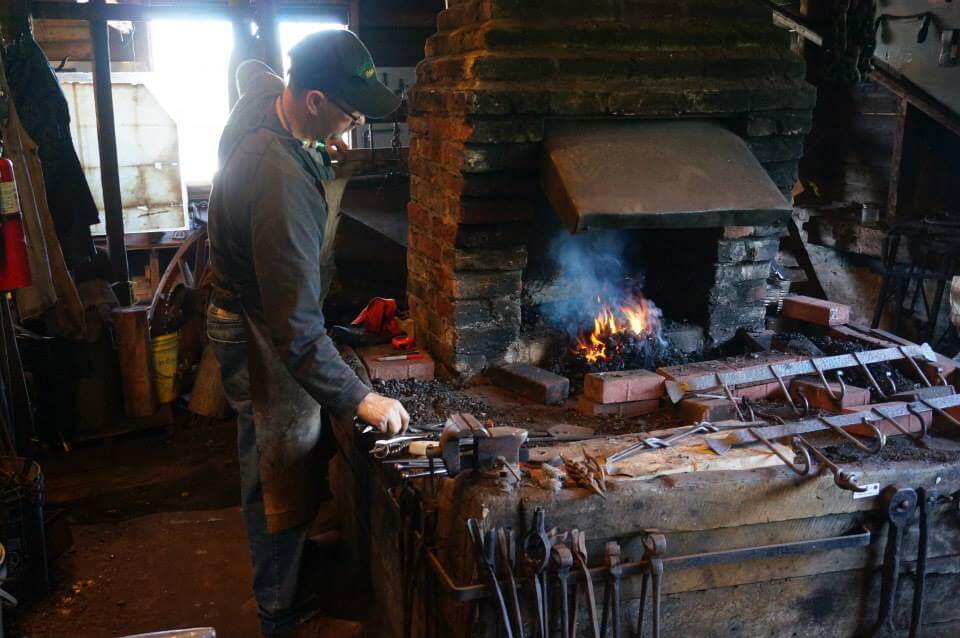 Operating Monday – Friday this is the only historic site that remains operating while the others are closed and guests can visit the forge, even if they visit during early May.  At this time the certified blacksmiths are creating products to fill online orders from around the world.  There is no official charge to visit Forge before the other historic sites officially open, however, we encourage visitors to leave a donation that contributes to the Trinity Historical Societies daily operations.
Relax At The Artisan Inn and take time to do nothing 
The Bonavista Peninsula is a stunning destination.  One of the most common complaints we hear from guests at check out is that they forgot to schedule the time to do nothing.   Even on days of cooler, or even wild, weather, curling up with a book in one of our properties can do wonders for the soul. Some rooms and houses come with their own private libraries.  We provide copies of The Grand Seduction, Maudie, Random Passage and The Shipping News to guests to watch in their rooms or vacation homes, as well as directions to many locations where these films were shot. If you love history and are disappointed to be missing some of the historic sites and museums, make history part of your experience by renting one of our homes or rooms, built in the 1800s.
OPENING May 3rd
Mirabella Studio, located in Trinity, sells locally made and carefully selected designer jewellery, along with a number of other items ranging from original art, signature teas and soaps.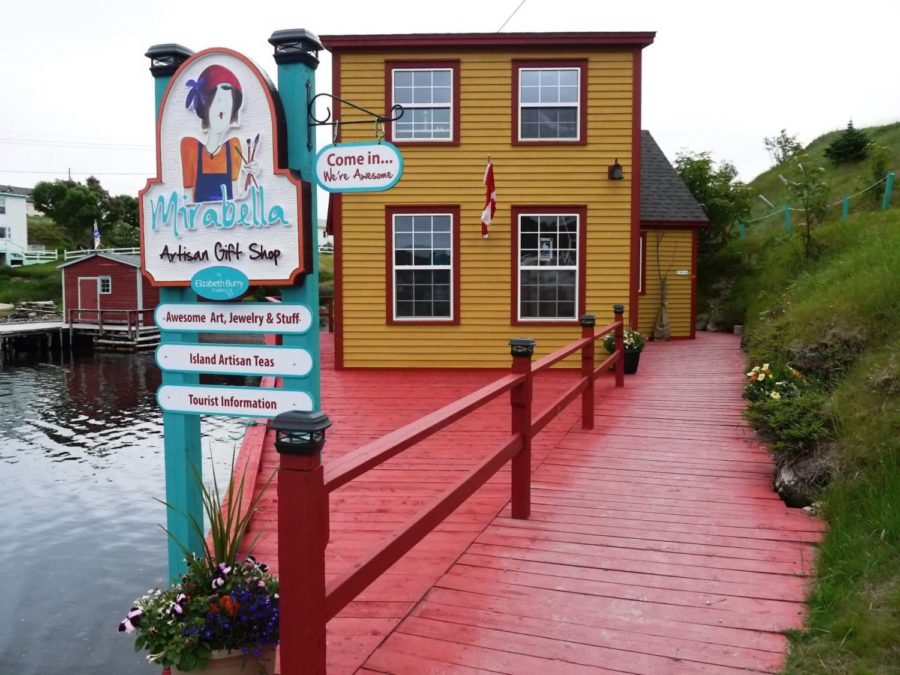 OPENING VICTORIA DAY WEEKEND
Rugged Beauty Boat Tours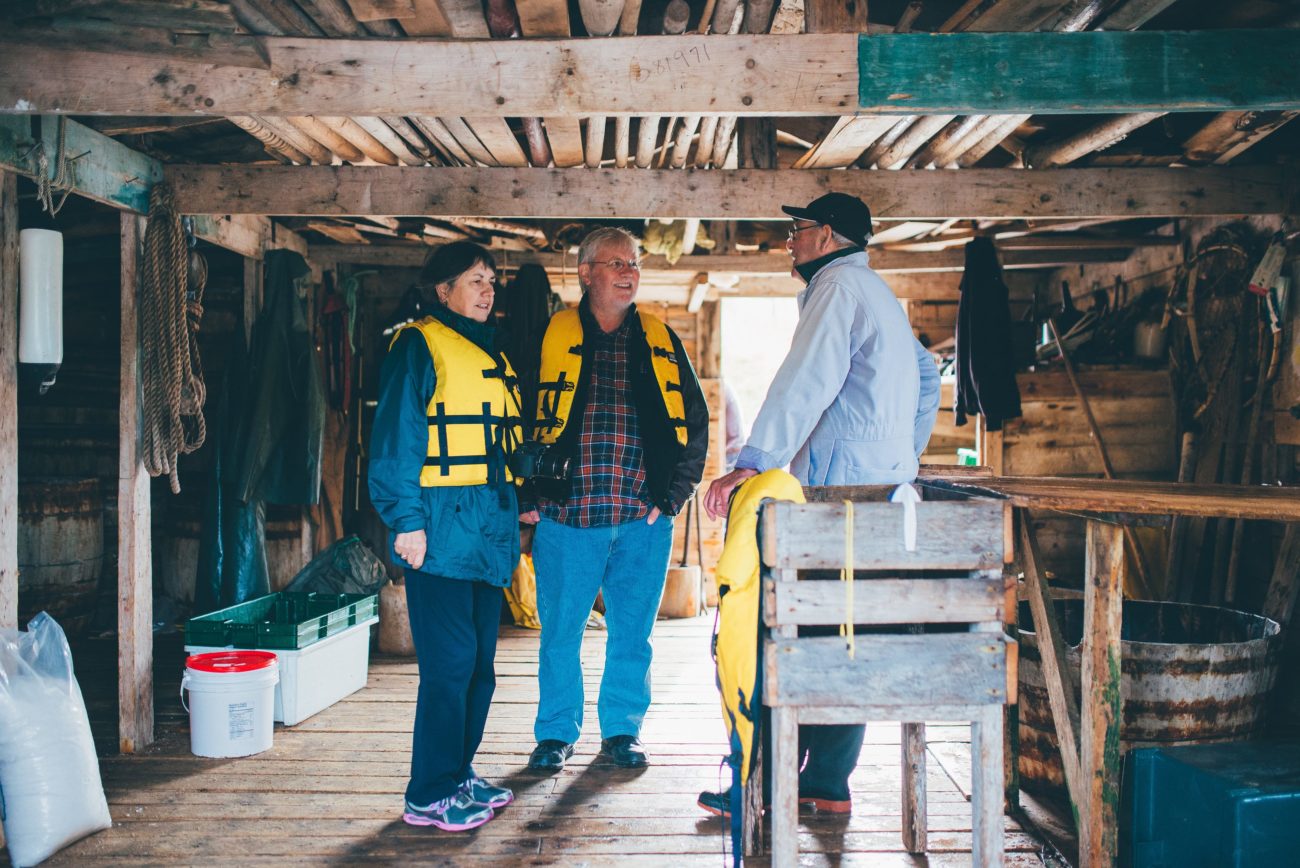 Explore resettled communities with captain Bruce Miller, who lived through it all.  The tour begins in New Bonaventure, 25 minutes from the Artisan Inn, and takes you by boat to see the Random Passage film set, British Harbour and Ireland's Eye.  You will even stop by Bruce's cabin for a cup of tea mid-trip. This tour is focused on culture and modern history.  Even if there are no icebergs around during your trip, you will find yourself enthralled by Bruce's stories and personality for the full 3-hour adventure.  Bruce's ability to depart is based on pack ice conditions, weather and a minimum number of guests.
Trinity Historic Sites Open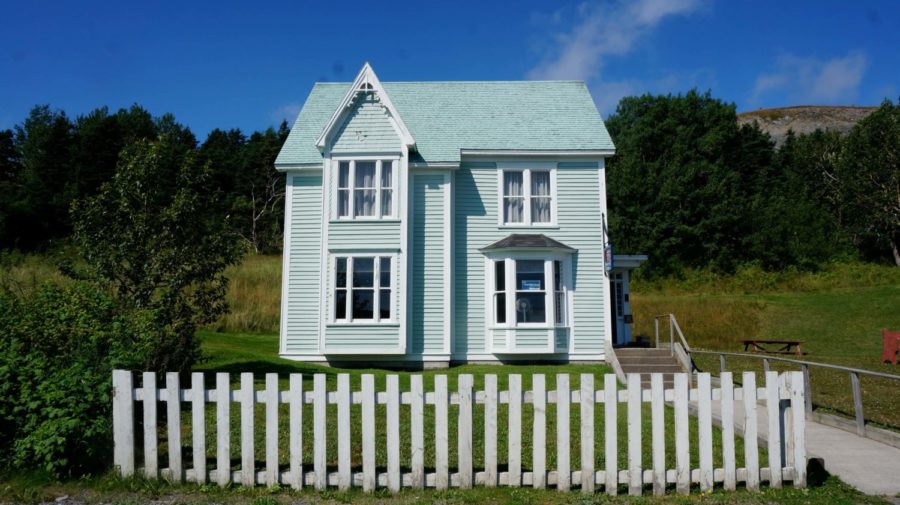 This is when the remaining businesses and historic sites in Trinity open their doors.  All Provincial and Municipal Sites in the community open for tours.  The opening of the historic sites also means that their associated gift shops open, including the Newfoundland Craft Council certified shop in the Lester Garland Building and Trinity Crafts in the Hiscock House. 
More Shopping Options Open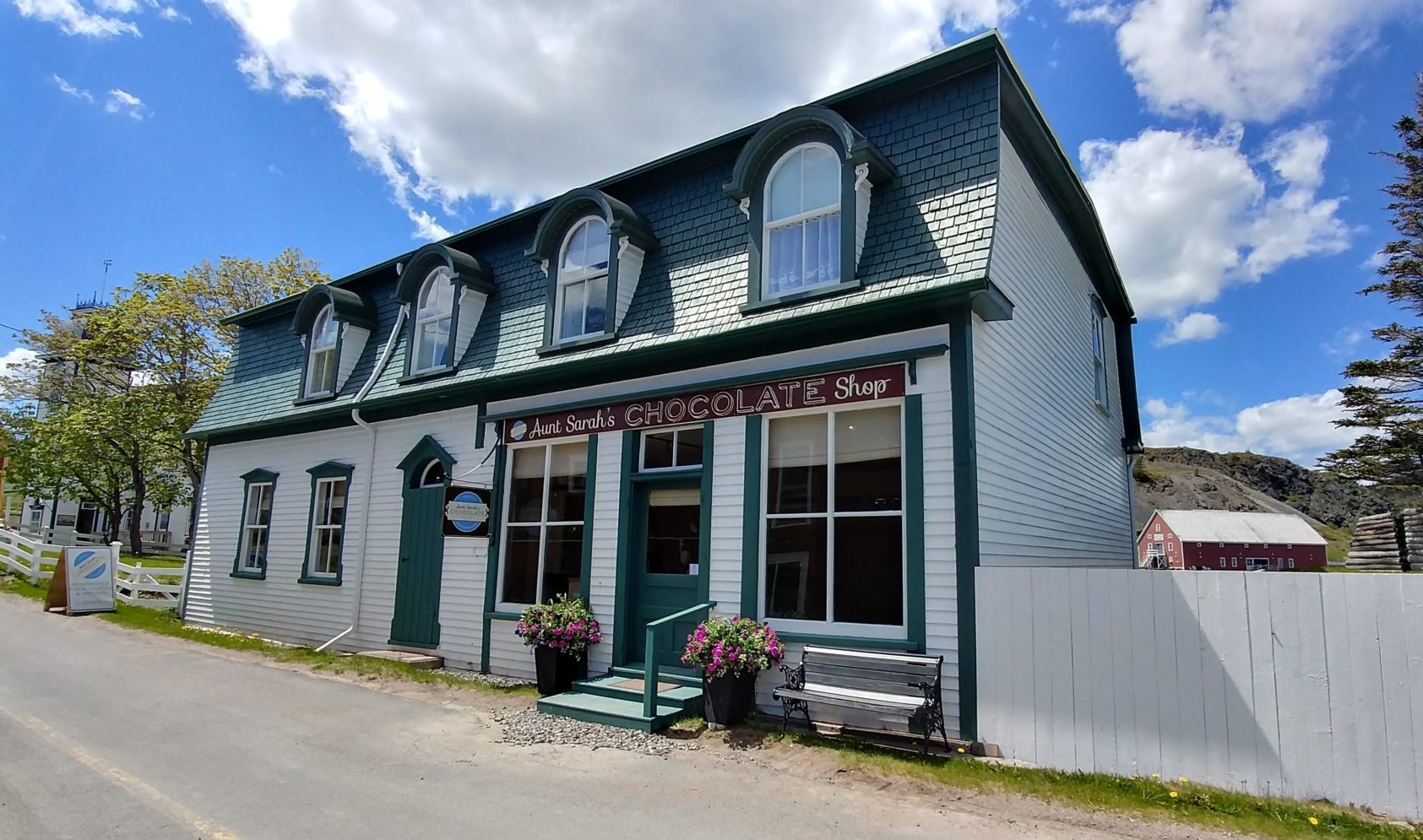 Aunt Sarah's Chocolate Shop typically opens on Victoria Day Weekend.  Don't leave without trying their Italian Hot Chocolate with roasted marshmallows.  Our top chocolate recommendation is Butter Crisp.
Visit our shopping page to find out more about the businesses listed above.
The Arrival of Puffins in Elliston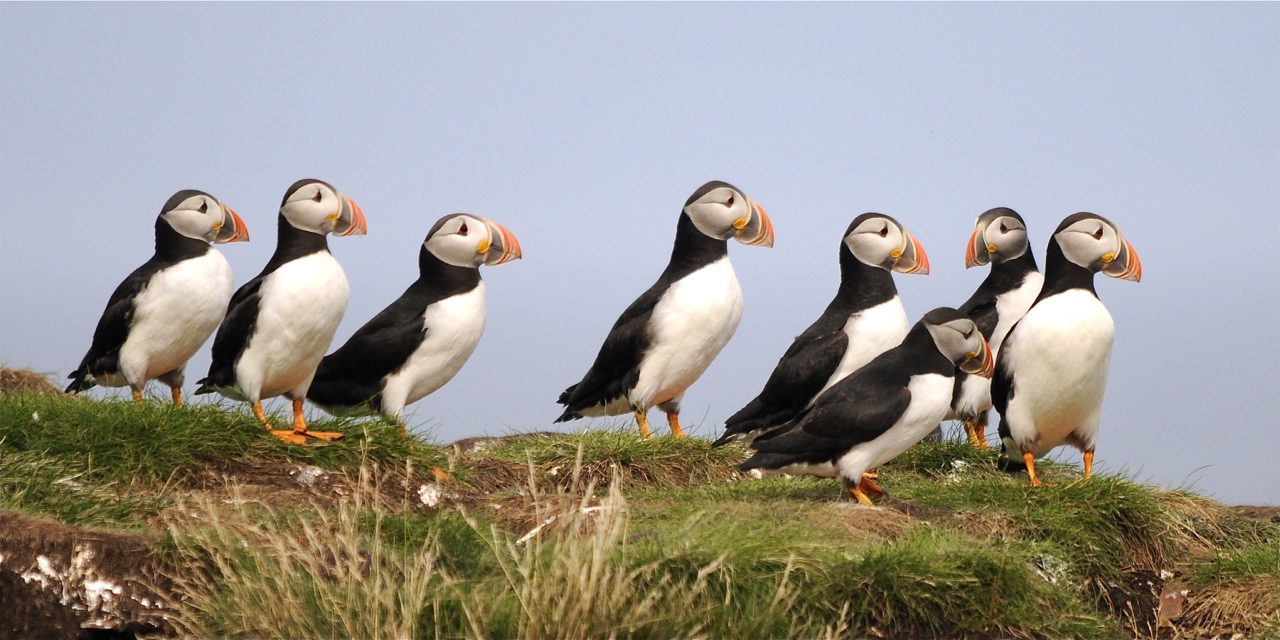 We cannot guarantee the date that puffins will arrive to nest in Elliston, however, it is typically in late May. Various factors can affect their arrival. In 2017 the puffins arrived late because of kilometers of pack ice. In other seasons they have arrived before mid-May. Mid June-Early August will provide the best chances of seeing them.
MORE INFO ABOUT ELLISTON PUFFINS
EARLY JUNE
Rising Tide Theatre Opens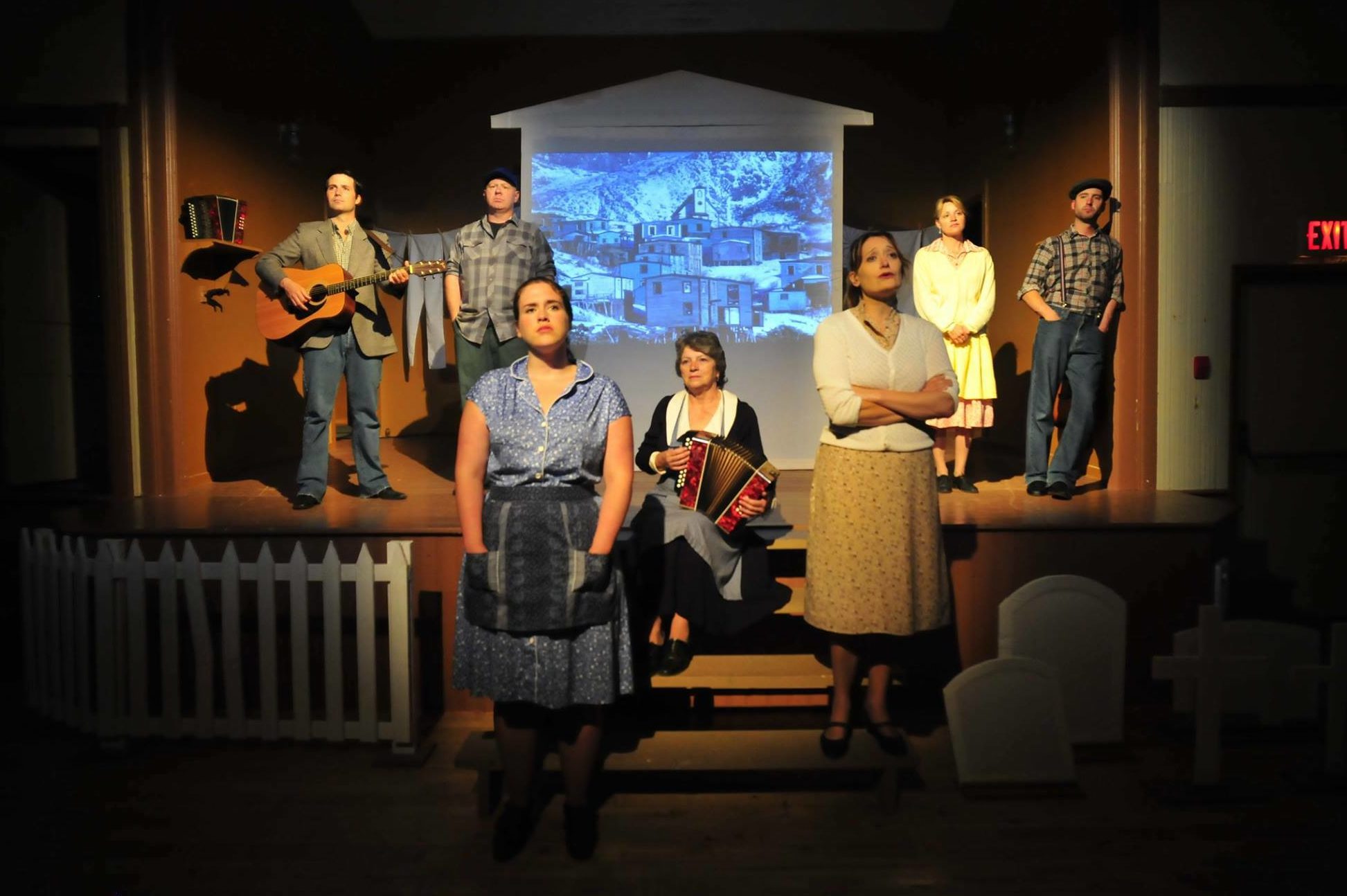 Typically, Rising Tide Theatre begins its performances during the first week of June.  These are their nightly performances only, usually beginning at 8:00pm.  Dinner Theatre and the Pageant begin during the last week of June or first week of July, when the entire cast has arrived in Trinity.  Please contact Rising Tide Theatre directly for specific dates, shows and to book your tickets.
Bonavista Peninsula In Full Swing
Typically, by the first week of June the majority of activities, restaurants and shops are up and operating on the Bonavista Peninsula.
Trinity Historical Walking Tour does not begin offering tours until late June because the guide works as a teacher and must wait for the school year to end.
Sweet Rock Icecream will open sometime in June, but the date will be dependant on the weather.
The humpback whales will arrive in full force once the capelin begin to roll.  This typically happens during late June.
Check out Sea of Whales Adventures Sightings from 2017 to find out what sightings were like around the time of the season you are considering a visit.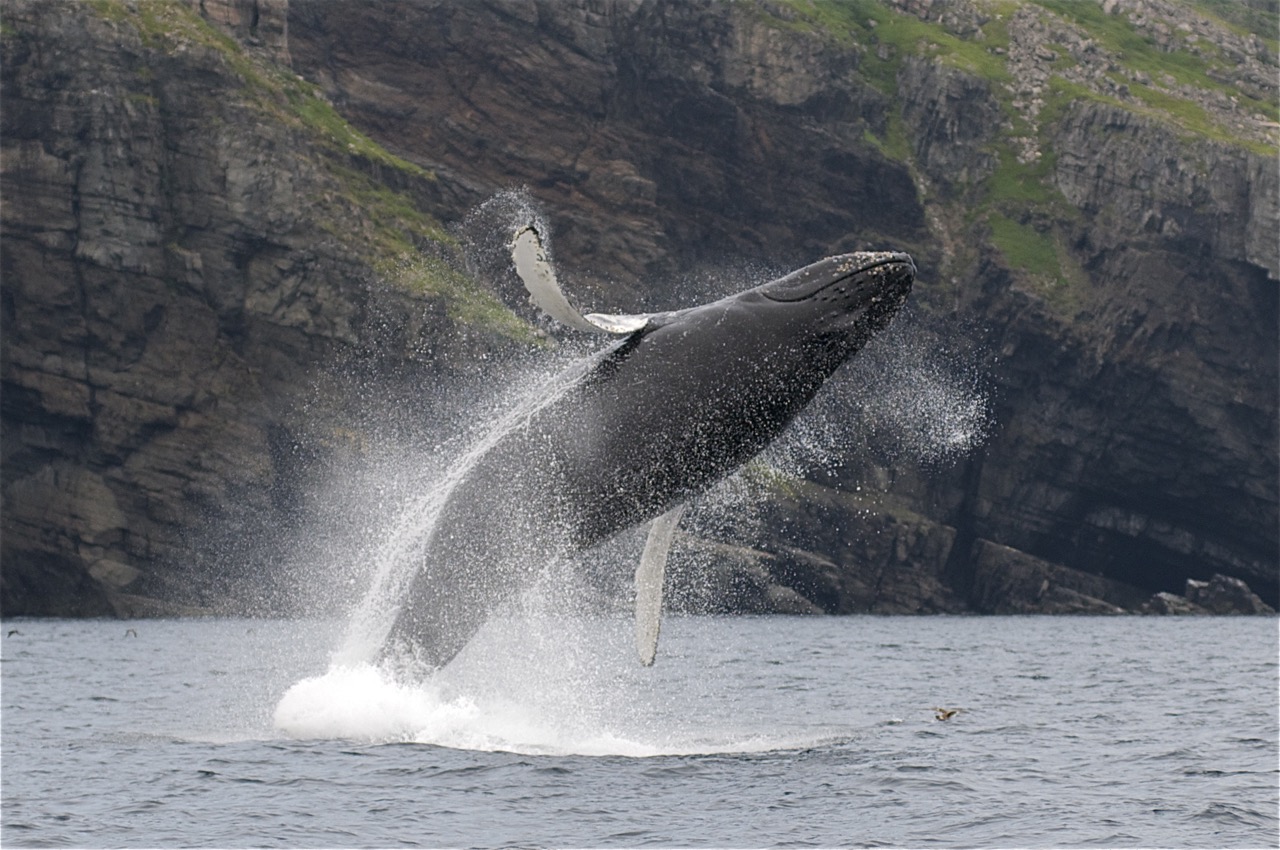 BOOK A MAY OR JUNE STAY & DINE PACKAGES