MISSION STATEMENT:
As we operate through the COVID-19 pandemic, our mission is to provide a beautiful, relaxing and safe vacation experience to our guests while ensuring that our staff are provided the knowledge, resources and support required to make their work environment a safe and welcoming place.
How are we adapting our business to ensure we achieve this goal each day?
Tineke Gow started the Artisan Inn in 1991 under the name Campbell House and has since grown it to include 7 rooms, 7 vacation homes and a restaurant.  Her daughter Marieke, who as been working with her for the past decade is now taking over operations. In 2019 Tineke and Marieke were awarded the Newfoundland and Labrador Tourism Achievement Award at the annual Hospitality Newfoundland and Labrador Conference for their contributions to the NL tourism industry. With decades of experience in the hospitality industry, you can trust that adjustments made during this time have been made with great consideration. 
WHAT WE ARE OFFERING IN JUNE 2020
We are starting small and growing as we learn. The Artisan Inn has Gover House, Cove Cottage, Nathaniel House and the Studio Suite ready for rent as of June 11th. Blueberry Cottage will become available in July. More vacation homes and rooms may open when we feel confident our staff can manage the workload with new procedures in place.  We are making plans for the restaurant, but have nothing to announce at the moment.
CONTACTLESS CUSTOMER SERVICE: 
The Artisan Inn has no intention of sacrificing the customer service we have built our reputation on.  We intend to continue providing exceptional pre-arrival communications and on-site support. We will provide:
Driving Instructions
Self Check-In Instructions
Itineraries with information regarding hikes, day drives, open attractions, take out services and contact information for contactless pick up at participating local shops.   
A list of all items included in the home to help you pack accordingly 
The manager lives in Trinity and will be happy to assist when possible by providing additional required items such as cookware, dvds and so on, especially if requested before your arrival.
Protocols will be in place if a staff member needs to enter a home for required maintenance during your stay.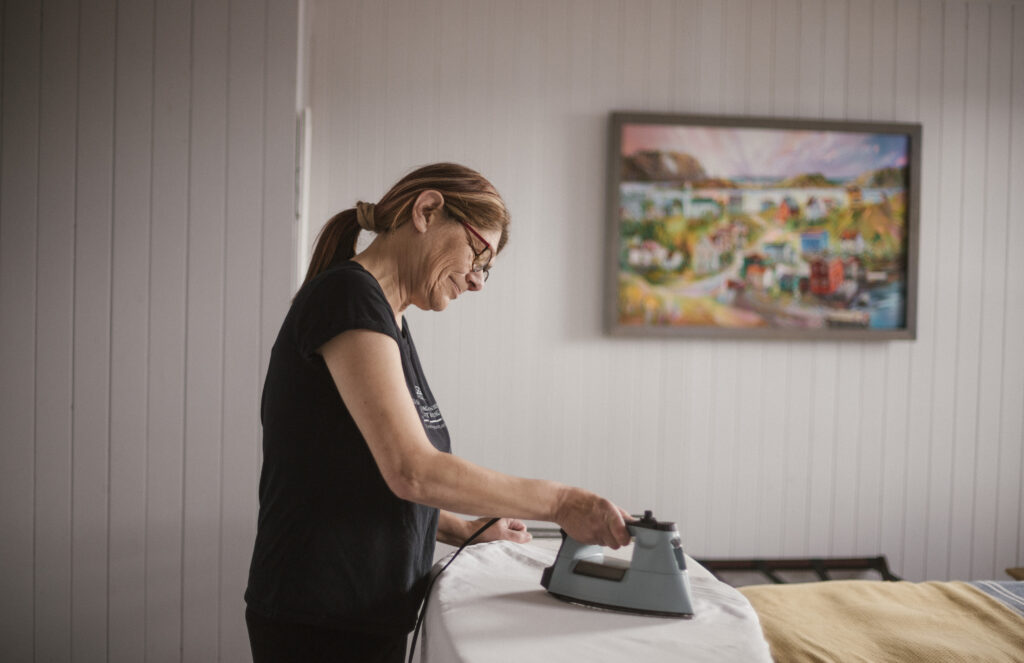 The Artisan Inn employs trained and dedicated housekeeping staff in full time positions.  Photo taken Oct 2019
ADJUSTING CLEANING PROTOCOLS AND AMENITIES
When you rent an Artisan Inn Vacation Home we want you to feel as relaxed as you do when you are in your own home. We don't want you to have to wonder what has and has not been disinfected prior to your arrival.  
Cleaning versus Sanitizing: When it comes to preventing the spread of germs, it helps to understand the difference between cleaning and sanitizing. Cleaning is the act of removing germs, dirt, and impurities (like when you use a soapy sponge to wipe off a visibly dirty counter or stovetop). Sanitizing is when you use chemicals to reduce the number of germs and bacteria. By cleaning first, then sanitizing, you can lower the risk of infection.
Our staff have always prided themselves on cleanliness, but vacation homes have never been expected to have all surfaces and items in the house to be disinfected to a "hospital level" with the exception of washrooms, bedding, kitchens, doorknobs and light switches. We now must aim to be as close to this as possible throughout the entire house so we can safely operate during any phase of the pandemic.  We have taken the following steps to achieve this.
Whenever possible, houses will be left vacant of guests for at least one night prior to a check-in.   This allows our staff ample time to clean the house in a thorough manner.  This is to reduce the possibility of droplet transference between previous guests, staff and new guests.  While CDC states that transference is most likely to occur from person to person contact, we need to do everything possible to prevent transference through surfaces in the home.  
We have reduced our tableware and cooking supplies to what is sensible for the party size of the guests coming in. We have always prided ourselves on having everything you can think of in a vacation home, but now our staff will be sanitizing every piece of tableware and cookware between stays even if they appear to be untouched or if a guest says they have been washed.  Guests are still responsible for washing their used dishes, it will be the job of the staff to ensure they are sanitized prior to the next check-in. We will be providing a list of all items included prior to your stay to allow you to properly plan your packing.  You may also request additional items be left in your vacation home prior to your arrival and we will let you know if we have it (If you know you will need an extra pot for a meal you are planning or a 9 inch pan, just let us know).
DVDs & BOOKS have been removed from the vacation homes. A list of DVDs will be provided and if you need  a book we will provide you with some options.  
Food items will not be provided: We will no longer be supplying food items such as oil, coffee, tea salt, pepper… With our clients now all coming from within the province it is safer to ask guests to bring and take their own.  
We are removing some, but not all decorative items from the vacation home.  We are expecting a number of families this summer and while adults may understand that they should avoid unnecessarily touching decorative items like vases or art, kids might not, so we are leaving the types of decorative items that our staff can sanitize between each guest.  Decorative rugs and drapes have also been removed from certain areas where they are not considered necessary.  (Drapes still remain in windows that do not have blinds.) 
Staff are given a list of "touch points" to disinfect between each stay While door knobs, light switches and faucets have always been a focus for our staff we must now ensure that touch points such as the lock mechanism on every window, the pull cord for the blinds, the cord and plug of the hair dryer… are all being disinfected.  Our staff are being provided with a thorough list to follow.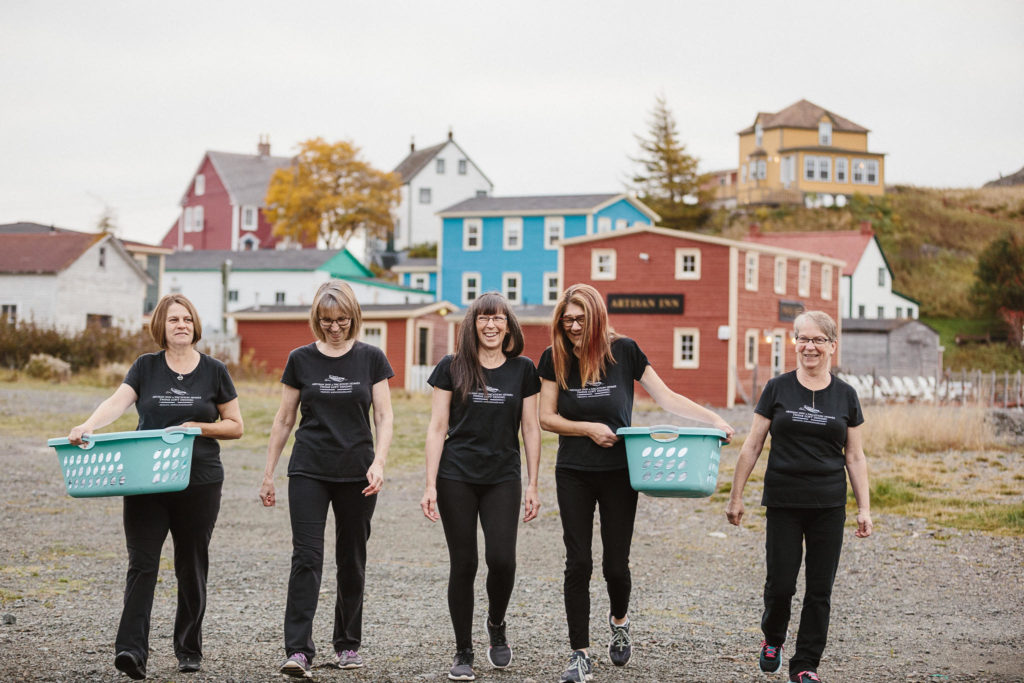 PRIORITIZING STAFF SAFETY
Staff will have their temperatures checked and will report if they are feeling any symptoms associated with COVID-19 prior to working with colleagues or entering a vacation home.
While multiple staff used to work together to clean a vacation home for timely turnovers, we have increased the time between bookings to allow more time for only one or two staff members to clean a home.  Staff members must stay a safe distance apart and will only be within 6 feet of each other when the job requires it and PPE must be used.
Only guests listed under a reservation are permitted in a vacation home, unless permission has been provided by management, to reduce the risk of droplet transference to staff members from multiple people/bubbles. 
ADJUSTED CHECK-OUT PROCEDURE
We will be expecting our guests to do a little more than normal when checking out.  This will include packing up their garbage and placing it in the house's garbage box, stripping the beds and placing linens and towels in provided baskets. This small amount of work will make a big difference to our staff's exposure and safety. 
GUEST WAIVERS
Guests will be expected to sign a waiver prior to check-in to confirm they understand our adjusted policies. 
ADJUSTED CANCELLATION POLICY:   
Because we are operating limited inventory and filling last minute cancellation will be difficult, we have had to adjust our cancellation policy.  Please see our adjusted cancellation policy here.
CONTACT US
Business Phone Number: 1-709-464-3377  1-877-464-7700 (you must dial the 877 for this number to reach us)
email: info@trinityvacations.com